DREMA 2022 officially open
&nbspWednesday, September 14, 2022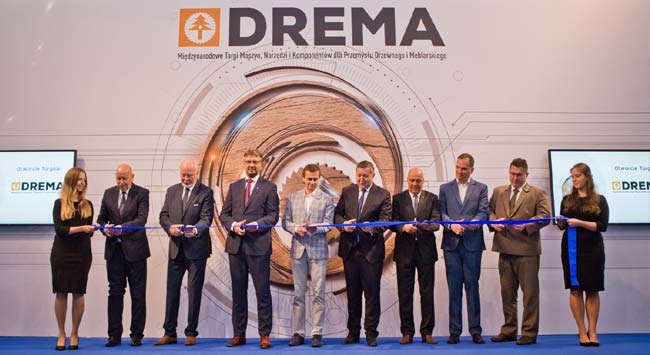 DREMA is back and now welcoming guests from far and wide. The show opened its gates on September 13 and will continue till 16, 2022 in Poznan, Poland. The event kicked off with a grand celebration honouring the winners of the Gold medals for the year.
DREMA Expo 2022 is the International Trade Fair for Machines and Tools for the Wood and Furniture Industries.
DREMA Expo 2022 is the venue for comprehensive range presentation of machinery and equipment for wood and furniture sector, from processing of round wood to the advanced technology in the furniture industry. Several exhibitors of the show have introduced their most recent products and new developments in front of the present attendees in the show.
There was a lot of joy at the venue as the winners rejoiced at the grand of DREMA 2022 after receiving the Gold Medals. The opening of the Drema 2022 was made by, Andrzej Półrolniczak – Chairman of the Board of the Association of Manufacturers of Machines, Equipment and Woodworking Tools, DROMA; Marek Kubiak – President Polska Izba Gospodarcza Przemysłu Drzewnego, Rafał Szefler – Director of the Polska Izba Gospodarcza Przemysłu Drzewnego, J Jdrzej Kasprzak – President Association of Woodpecker Manufacturers in Poland, Dariusz Kozera – President of Stowarzyszenie Parkieciarze Polscy, Michał Strzelecki – Office Director Ogólnopolska Izba Gospodarcza Producentów Mebli, and Tomasz Kobieski – Chairman of the Board of Directors of Grupa MTP.
In addition to a huge number of stalls located in three pavilions, Drema offers it all to the woodworking and furniture industry. Director of Drema Andrzej Półrolniczak mentioned about the strength of the Polish wood and furniture industry and the richness of this year's edition.
The DREMA trade fair is one of the world's largest events for the sector of woodworking machines and tools as well as components for the furniture industry. A comprehensive exhibition featuring machines in operation, a demonstration of the state-of-the-art technological and technical solutions, abundance of events as well as integrated showrooms of Furnica and Sofab define the strength of DREMA 2022.
Tags: Drema, furniture, furniture industry, wood, wood and panel, woodworking and manufacturing, woodworking and processing, woodworking event, woodworking industry, woodworking UK