DIEFFENBACHER EVOsteam accelerates production at Masisa
&nbspTuesday, September 5, 2023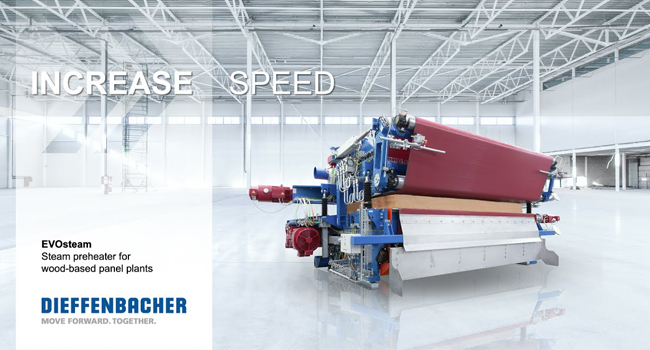 In June 2023, Masisa S.A. In its chipboard plant in Cabrero, Chile, an EVOsteam steam preheater from DIEFFENBACHER has been put into operation. "The EVOsteam from DIEFFENBACHER offers major improvements with little investment, for example increasing the capacity of our chipboard production in Cabrero," says Roberto Stück, technical director at Masisa. "It speeds up our production while improving the mechanical properties of the board," he adds.
Mounted directly on the press inlet, the EVOsteam preheats the mat by introducing steam. This reduces the time it takes to heat the mat inside the press, increasing the production speed and ultimately the capacity of the system by up to 20%. "The upper unit of the steam preheating can be used either in the raised mode as a steam shower or in the laid-up mode to introduce the steam directly into the mat," explains Tobias Hempel, Product Manager at DIEFFENBACHER.
"In view of the sharp increase in gas prices, which have also led to an enormous increase in glue prices, the EVOsteam has another important advantage in addition to the increase in capacity: it helps to save resources, especially glue," says Hempel. "If the higher mat temperature is not used to increase production speed, the glue has more time to cure in the continuous press. This creates enough 'glue bridges' to produce high-quality panels even with less glue," he adds.
In addition, the EVOsteam prevents condensation from forming on the belts and the resulting impact on the plate surface by using thermal oil from the press's secondary heating circuit to preheat the steam plate. Operation is simple, maintenance is low and the low waste water volume keeps the total cost of ownership low. The integrated strip cleaning and drying system ensures high production reliability. "Due to its positive effects on product quality and its contribution to material savings, the EVOsteam also represents a real alternative to a press extension," says Hempel.
Other companies, including Pfleiderer and the Sumitomo subsidiary Vina Eco Board, are already successfully using DIEFFENBACHER's EVOsteam. In Baruth, Brandenburg, Pfleiderer operates steam preheating in an MDF plant, while Vina Eco Board uses the EVOsteam in chipboard production at the Long An site in Vietnam.
"The EVOsteam compensates for the reduced press speed when using low-emission glue, which takes more time to cure than conventional glue. In addition, it is particularly effective for light panels with low heat transfer in the press," concludes Hempel. The EVOsteam can be used in chip, MDF and OSB production and is available both for new systems and for retrofitting in existing systems.
Read more news on Dieffenbacher
Tags: Dieffenbacher, EVOsteam, Masisa, MDF plant, plate surface, Roberto Stück