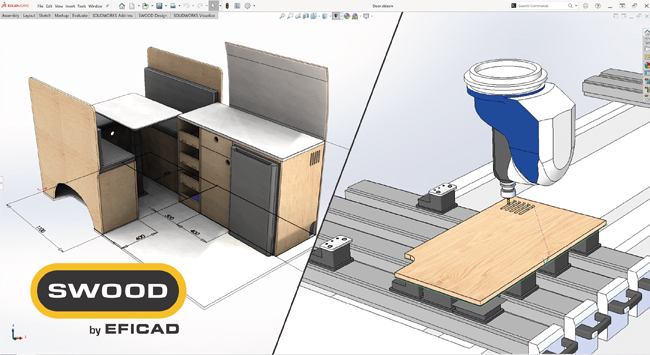 For more than 30 years, EFICAD has been supporting woodworkers across all sectors to digitize and improve their woodworking processes. Developed by EFICAD, SWOOD is a woodworking CAD/CAM software integrated seamlessly within SOLIDWORKS. This solution is for anyone designing and producing in the wood industry. Currently used in over 60 countries, many small or big businesses have successfully optimized their complete chain from design to manufacturing using SWOOD.
The design solution, SWOOD Design, offers woodworkers complete design freedom for standard and custom projects in many sectors, such as furniture, interior fittings, and more, on small and industrial scales. By using the capabilities of the SOLIDWORKS environment, SWOOD offers parametric features and drag-and-drop insertion capabilities to manage materials (grain direction, edgebands, and more) and the easy addition of any necessary hardware components (such as dowels, eccentrics, drawers, hinges, and other components).
The manufacturing solution, SWOOD CAM, offers a complete module covering the point-to-point and nesting process. It supports various CNC machines (like Homag, Biesse, SCM, and many more.) and guarantees compatibility through customized post-processors (for WoodWOP, BiesseWorks, bSolid,
MAESTRO, and many more). Additionally, it controls motorized worktables (beams and pods, clamping systems, etc.) and manages special tools (edge banding aggregates, profiling tools, drilling blocks, and more). It lets you connect the design information to the CNC machines by generating the necessary programs and production documents for your machining operations.
SWOOD CAM also has an add-on that streamlines the CNC nesting process using various strategies like grain matching, offcuts management, and specific milling and part-holding strategies. You can nest 3D projects onto many boards for manufacturing quickly.
In addition, the primary objective of any project is to create documents for producing the desired outcome. SWOOD manages this by offering the possibility of automatically generating workshop documents in a single click with design and manufacturing information, such as a list of stocks, panels, hardware, cost details, compatible CNC machine programs, labels, and many more. The export feature is fully customizable, and you can choose from various file formats like XLS, PDF, CSsV, HTML, XML, etc., to suit your requirements.
For automating the complete design to the production process, EFICAD offers another ideal solution: SWOOD Center. SWOOD Center links your database to your workshop by capturing all the required information, thereby automatically creating projects with all needed documents.
SWOOD experts is giving live demos at LIGNA 2023 at HALL 15, Booth 78. Visit and discover the new updates and functionalities to help your business needs.