Cyncly is all set for EspritMeuble
&nbspMonday, November 13, 2023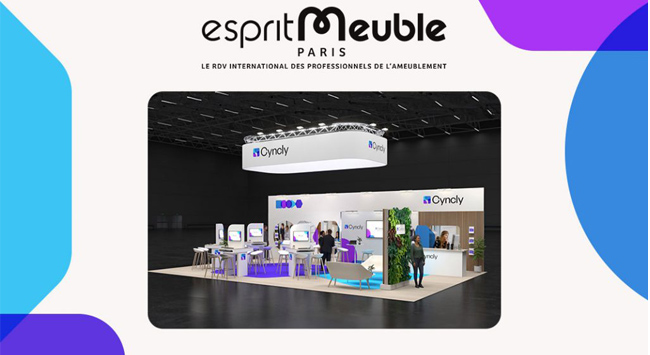 Cyncly, a leading global provider of software and content solutions will showcase its end-to-end software solutions at EspritMeuble from November 18 to 21, 2023 in Paris. Visitors will be able to find the Cyncly team on booth H54 in the EspritCuisine section.
Highligting the company's main aim, Régis Blandin, Sales Manager SMB France, Cyncly said, "Our goal is to help our customers put the consumer at the heart of the kitchen design process. Small and midsize businesses are using our solutions to stay competitive through faster service, more customization and better outcomes."
Cyncly helps kitchen designers deliver outstanding customer experiences by ensuring quality service with its software solutions tailored to their business. Cyncly helps kitchen designers consistently meet customer expectations with a comprehensive suite of industry-specific solutions, including Ideal Spaces and Winner Flex, based on more than 30 years of experience in the kitchen and furniture industry. Cyncly offers professional kitchen design and store management software, premium services, and online solutions for interior design. 
"Cyncly is offering solutions that span every stage of the customer journey, and scale up to the largest sized retailers," said Philippe Laziosi, Sales Director for Southern Europe, Cyncly. "Consumers are looking for a seamless experience, from project inspiration, through design and sales, and finishing with successful installation. Through leading software and close customer support, we're helping large retailers deliver a consistently great consumer experience."
New in 2023 at EspritMeuble:
•  Standardize measurement and the creation of reliable drawings. 
Cyncly will welcome its partner iMapper to its booth H54 who will offer demonstrations of its living space scanner. One can easily forget about the erroneous plans and poorly sized orders with a measurement tool that allows you to quickly create reliable drawings to focus on the project. A special trade show offer will be offered to Cyncly's customer visitors.
• Simplify the integration of appliances into 3D designs.
Cyncly becomes official distributor of the BenchKATALOG SaaS web platform developed by BenchDATA SAS France. This innovative solution gives kitchen designers access to a European database of household appliances and more. It makes it easy to find, compare, and integrate these products directly into Cyncly's software solutions.
• Revolutionize the management of kitchen installation files.
Cyncly recently integrated the Wipoz! app into its design software to make it easy for kitchen designers to manage their kitchen installation files. With one click, kitchen designers can now automatically create an installation project for their client's kitchen. In addition to saving time and peace of mind, this integration also allows kitchen designers to boost their performance with management from A to Z.
• Co-constructing the future of contract digitalisation.
Cyncly and Discac are teaming up to reinvent the experience of buying kitchens and bathrooms for real estate development projects. With their turnkey solution, the two partners offer a seamless path to digitise and simplify all the steps of the buyer choice process, from inspiration to installation. They will share booth EC26 in the EspritContract area.
Read more news on Cyncly here
Tags: Cyncly, EspritMeuble, software solutions, trade fair, wood, wood and panel, woodworking, woodworking UK