CLT Toolbox launches game-changing timber designing software
&nbspThursday, March 30, 2023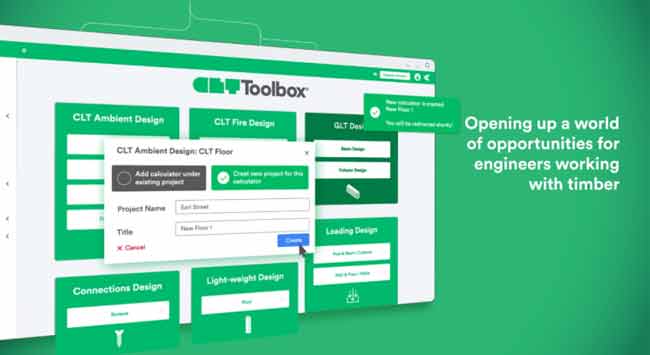 CLT Toolbox has announced the upcoming launch of its engineering software, aiming to revolutionise the structural design process for mass timber buildings. New software promises to streamline sustainable timber design, accelerates mass timber adoption, and aims to significantly reduce embodied carbon emissions in construction.
Developed in response to research from the supply chain and structural engineers across Australia, the software programme will automate complex structural design computations, making it easier and more cost-effective for engineers to design and build with sustainable materials.
The software aims to remove the barrier to entry, empowering all structural engineers to design with sustainable materials and further enabling the decarbonisation of construction.
Led by founder and CEO Adam Jones, CLT Toolbox strives to make timber design easier than concrete and steel and eliminating embodied carbon.
Timber plays a critical role in achieving these goals set by the building industry for the decarbonisation of embodied carbon. CLT Toolbox hopes to contribute to these goals by streamlining design with their software.
The software reportedly eliminates the need for engineers to spend hundreds of hours creating custom Excel spreadsheets for timber design, saving incoming engineering consultancies over a $100,000 entry fee.
The software thus optimises the design process, making it more accessible for engineers unfamiliar with mass timber.
CLT Toolbox will also address the knowledge gap left by traditional university courses, providing education and resources tailored to the needs of structural engineers designing with timber.
Additionally, the software is not a black box, and instead offers a transparent and collaborative approach that takes into account supply chain availability and is designed as a web-based app.
CLT Toolbox will first release the restricted beta user programme in April 2023, with a public release set for July 2023.
Based in Melbourne, Australia, CLT Toolbox specializes in innovative engineering software solutions for the construction industry. Their mission is to empower structural engineers to drive positive change within the sector through advanced technology and sustainable design practices. Focusing on timber design, CLT Toolbox is poised to play a vital role in the industry's transformation towards a more sustainable future.
Tags: mass timber, Toolbox, wood, wood and panel, woodworking, woodworking and manufacturing, woodworking and processing, woodworking event, woodworking industry, woodworking UK