BWF reveals 2022 Award winners' list
&nbspWednesday, December 7, 2022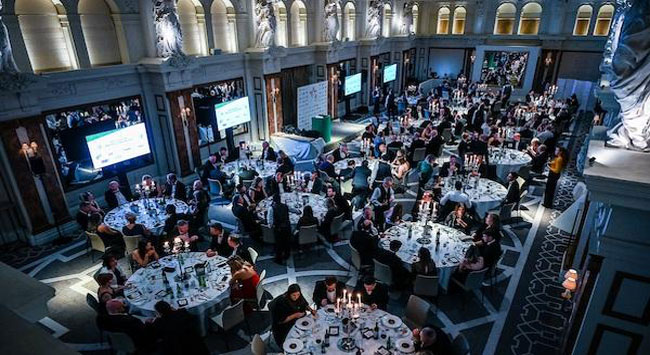 The prestigious British Woodworking Federation (BWF) Awards 2022 winners were announced during a celebratory evening at the Kimpton Fitzroy London Hotel. The 14th edition of the Awards was hosted this year, honouring remarkable accomplishment, talent, and abilities from the woodworking and joinery manufacturing industry.
The awards were presented into 7 distinguished categories :
BWF Process and Resource Efficiency Award : The Sash Window Workshop for its initiative to track down, actively cut back on, and offset residual emissions of carbon. The jury agreed that the Sash Window Workshop's devotion to this is exceptional. Reducing carbon emissions is extremely vital for our industry. Even when manufacturing capacity rose, they were able to significantly cut their carbon footprint by identifying and quantifying important locations.
BWF Innovation in Design Award : This honour went to Valdi Ltd for the creative conception and creation of a cornerless timber bifold door system that enables three-sided opening of the building. The judges commented that "the concept of this design seems difficult enough, but to actually produce this is breathtaking."
BWF Heritage Project of the Year Award : Gowercroft Joinery Ltd for the intricate retrofit of a West London mews house with a low energy rating from the Victorian era. The brand was lauded for exhibiting "a great vision for the importance of keeping sustainability achievable in conservation projects."
BWF Woodworking Project of the Year Award : Precision Made Joinery Ltd for its multifaceted renovation of a heritage property in Suffolk. The brand received its due recognition for setting an example of remarkable capacity and craftsmanship – where modern joinery techniques have been utilised to sympathetically merge buildings into the building's original fabric.
BWF Rising Star Award : Jamie Dixon, Technical Manager of ERW Joinery Ltd., for his dedication to providing excellent customer service and enhancing organisational efficiency. The business has benefited from Jamie's extraordinary competence and aspiration for the expansion of the business, and his attention to detail and customer service.
BWF Apprentice of the Year : Aidan Taylor, an apprentice at TMJ Interiors Ltd., for his commitment to producing high-quality work and his willingness to push himself beyond his comfort zone. Aidan holds himself to the highest standards and takes pride in everything he does.
BWF Health and Safety Certificate of Commendation : Nigel Barber, the health and safety manager at Salisbury's R Moulding & Co, received the Certificate of Commendation in honour of his tireless efforts to alter the perception of health and safety at his place of employment. He has worked to improve and embed health and safety among the 150 employees and subcontractors of the company.
Read more news on BWF
Tags: British woodworking federation, BWF Awards 2022, wood, woodworking and manufacturing, woodworking event, woodworking industry, woodworking innovation, woodworking UK