Blum acquires System Industrie Electronic
&nbspWednesday, November 23, 2022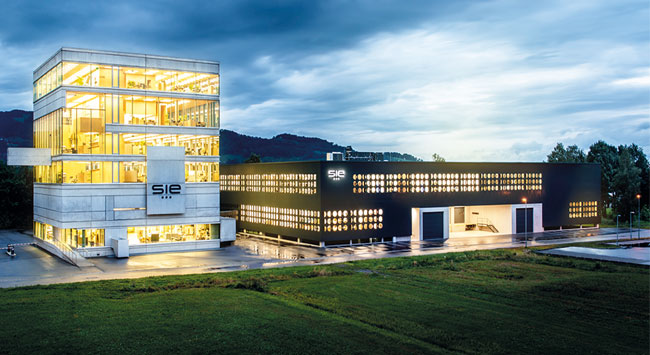 Blum is purchasing a 75.1% stake in the Austrian company System Industrie Electronic GmbH (S.I.E). The company based out of the town of Lustenau, Vorarlberg generated an annual turnover of around 24.8 million euros in 2021, with 125 employees working across three sites. This close collaboration also generates welfare synergies in the flexible allocation of resources for R&D and the purchase of electrical components.
Electric and intelligent furniture
As one of the first companies to begin creating mechatronic products for the "furniture of the future," Blum has long been focused on the potential of smart furniture. For an illustrative example, since 2006 the fittings maker has provided the Servo-drive electrical motion support system for wall cabinet fronts and pull-outs. The newest Blum product solution, Amperos, outfits furniture with lights and charging ports for cell phones and home appliances, and further electronic applications are in the works. It was unveiled in 2021 at interzum, the biggest trade show for interior design and furniture manufacture in the globe.
Blum's Managing Director Martin Blum explains: "S.I.E's focus is on the interaction of mechanical engineering, electrical engineering and information technology. At Blum, we develop product innovations for electric and intelligent furniture. Together, we can further expand our competencies in the business segments of S.I.E and in our mechatronic and smart development projects."
Contrary to Blum's primary line of work – mechanical systems, mechatronics is the latest technology that moves quickly and changes continuously. Employees at S.I.E are devoted to this technology, therefore Blum values their expertise greatly. Blum has thus decided to merge its own mechatronics expertise with that of the embedded system expert situated in Lustenau. S.I.E. will continue to run the Vorarlberg location as well as two facilities in southern Germany while maintaining its identity as an independent business with 125 employees.
Read more news on Blum
Tags: austria, blum, collaboration, System Industrie Electronic, wood, woodworking, woodworking and manufacturing, woodworking event, woodworking industry, woodworking UK