BECK Fastening wins Feronia Sustainability Award
&nbspWednesday, March 22, 2023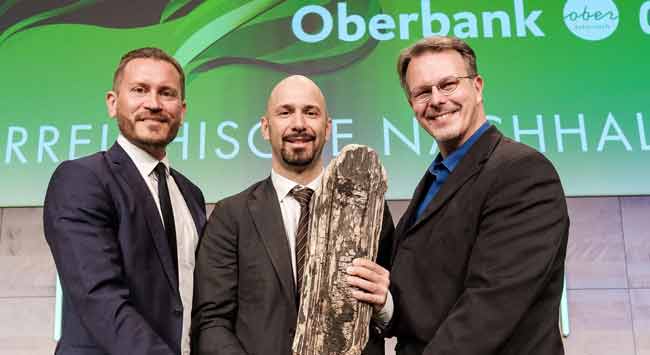 CEO Christian Beck, CFO Markus Auer and R&D Director Stefan Siemers were excited to bring home the Feronia Sustainability Award as winners.
Christian Beck proudly explains: "We are so immensely grateful and honored for receiving the Feronia Sustainability Award from the State of Upper Austria in the category "Sustainable Products & Services" for our LIGNOLOC Wooden Nail Systems. A sincere Thank you, on behalf of all the people at BECK, to the jury for taking such a courageous decision, as well as Thank you to the State of Upper Austria, OÖNachrichten and Oberbank for organizing such an amazing event with such an important purpose. This award is the recognition of a massive team effort and the joint believe in our capability to transform our realm to the better – for a greener, cleaner and better (timber) construction industry."
Feronia, the Upper Austria's sustainability award, is getting prominent in the industry. In cooperation with the state and the Oberbank, the OÖN are looking for exemplary concepts, products, services and initiatives in the areas of business, culture and social affairs.
LIGNOLOC® wooden nails, collated for use in compressed air nail guns, permit the realization of horizontal and vertical wood cladding completely out of wood. This results in metal-free facades, which not only support the requirements of the recycling industry in terms of disassembly and recyclability, but also reduce the wear on tools during grinding or sawing. A revolutionary, ecological attachment system using wood as a recyclable raw material. The wood is Central European beech and comes from sustainable FSC forestry, which consequently makes an important contribution to a sustainable transition in the building industry.
Tags: Beck Fastening, Feronia Sustainability Award, sustainability, wood, woodworking, woodworking and manufacturing, woodworking event, woodworking industry