ADLER and binderholz conducted a successful training partnership
&nbspFriday, July 14, 2023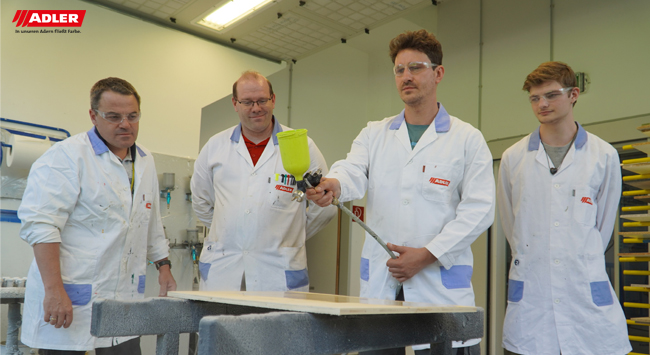 ADLER and binderholz came together to participate in a training session that was enriching for both the companies. This training partnership had been an enhancing experience shared between binderholz and ADLER-Werk Lackfabrik.
Apprentices, Robert and Hunor were guests at the ADLER factory in Schwaz, where they exchanged thoughts and learned various things that boosted their usual working procedures. While they usually learn how logs are turned into strips or how sawn timber can be further processed into laminated beams, the future wood technicians made use of this opportunity to learn the procedure to apply paint, test wood preservatives and swing the cup gun.
This year the training partnership celebrated its 10th birthday. A number of apprentices from both the companies have been participating in such a training occasion since 2013. They have benefited and exchanged a lot of their knowledge. Representative from binderholz, Gruber therefore said, "Knowing the basics of the nature, development, mode of action and use of paints, varnishes and wood preservatives is an important basis for the Working with the natural raw material wood,". It was an enriching experience for ADLER too, as Michael Enders, stated: "It is extremely exciting for our apprentices to see how the products are made, which are then refined and protected with our surface treatments."
This training partnership was a perfect opportunity that led to the prospective business union. binderholz produces well thought-out solid wood solutions and their solid wood products range from lumber, profiled timber, single and multi-ply laminated solid wood panels and glulam to binderholz CLT BBS. ADLER on the other hand is one of the leading manufacturers of varnishes, paints and wood preservatives. Both the companies came forward with their products and acknowledged the use of the other products, to discover new and better ways of usage.
Tags: ADLER, binderholz Group, wood, woodworking, woodworking and manufacturing, woodworking and processing, woodworking industry, woodworking UK