Schmalz develops new cable carrier V-Chain
Published on : Monday, March 23, 2020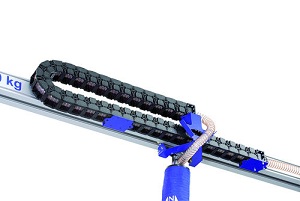 Schmalz is expanding the product range for its flat jib, saving space at the same time: The new V-Chain packs the hose assembly for the vacuum supply into a cable track, making loose-hanging loops a thing of the past and allowing even forklift trucks to pass safely under the flat jib.
In areas with height restrictions, every centimeter counts. To enable ergonomic work using vacuum lifters in such areas, J. Schmalz GmbH added the modular aluminum flat jib to its product range. Now the vacuum experts have expanded the modular system for the space-saving crane system with a new energy supply.
Instead of the trailing cable — where the vacuum supply hose which is laid in loops can quickly become an interfering edge, particularly in low-ceilinged areas — with the V-Chain, the hose assembly is laid in a cable track with a low overall height. By using the V-Chain, Schmalz has gained approximately 750 millimeters of extra usable space underneath the jib compared to with the trailing cable. It is available as an option with Schmalz jib cranes in combination with the tube lifter JumboFlex.
Tags: enable, ergonomic work, JumboFlex, new energy supply, new V-Chain, product range, saving space, schmalz, space-saving crane system, tube lifter
| | |
| --- | --- |
| | |
| | |