Venjakob puts spotlight on flexibility
&nbspFriday, October 28, 2022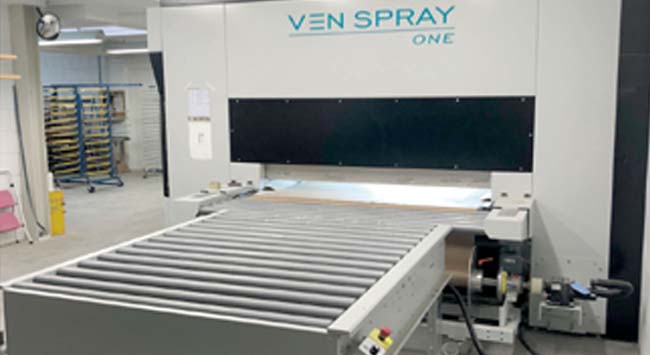 Venjakob recently highlighted the benefits of flexibility in coating technology over utilisation. Coating solutions for workshops are less about machine utilisation and more about flexibility, speed, and reducing the workload of the few employees. Since this year, the Kalmbach joinery has been painting with Ven Spray One – a semi-automatic coating solution. The latest development from Venjakob is geared to the requirements of the skilled trades. The machine's delivery time of only four weeks was another important decision criterion for Stephan Kalmbach.
The "small Venjakob" compact and with integrated control cabinet. Quick to install and easy to maintain. Here it was perfectly integrated into the premises.
"Our Surface department was permanently overworked. We were already considering purchasing a spray coating robot before Covid-19 hit us. But, as always, we didn't have time to deal with it," Stephan Kalmbach recounts in retrospect.
"Admittedly, even as a little boy, my heart beat for Venjakob spray coating machines. But they were out of our league," admits Kalmbach with a smile.
Saving time with new technology:
"When we decided to invest in a machine, we wanted everything to happen quickly. Only Venjakob could promise us the desired delivery time of four weeks," says Stephan Kalmbach, praising the entire process. First, Venjakob organized a visit to a joinery in southern Germany so that the Kalmbachs could experience the automatic spray coating machine directly in action. "Nothing was too much for our contact at Venjakob. We were even able to call him during his skiing vacation. From the slopes, he organised a weekend visit for us at short notice to the Venjakob technical centre at the company's site in Rheda-Wiedenbrueck." At the technical center, Stephan and Rudolf Kalmbach measured the machine in detail. They found that the designated space in the plant was not enough for the machine – another solution was required.
Tags: Kalmbach joinery, semi-automatic coating solution, surface finishing, Surface Technology, Venjakob, wood, wood and panel, woodworking and manufacturing, woodworking industry