Timberlink's NeXTimber facility presses its first CLT panel
&nbspTuesday, October 31, 2023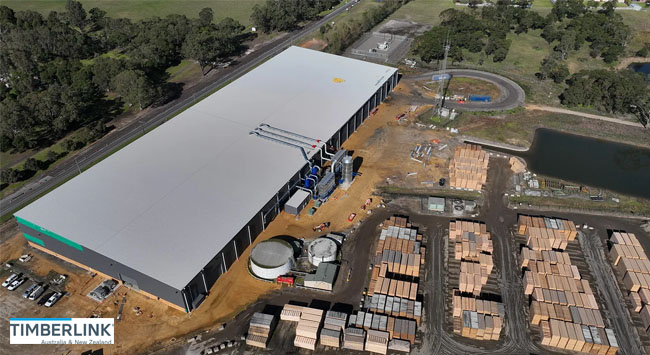 NeXTimber facility of Timberlink has successfully pressed its very first Cross Laminated Timber (CLT) panel. This marks another significant milestone in the records of one of Australia's well known CLT and GLT (Cross Laminated and Glue Laminated Timber) radiata pine mass timber facility. The commissioning of this CLT line follows production of the facility's very first GLT beam in August 2023.
David Oliver, Timberlink Chief Marketing, Sales & Corporate Affairs Officer said, "The entire team has been working towards this moment since we announced construction of the facility in 2020. To see the hard work of so many come to fruition is very rewarding." The newly commissioned CLT line, co-located at Timberlink's Tarpeena, SA, manufacturing facility, can produce panels up to 16M long and 3.5M wide and will unlock significant capability to manufacture mass timber building products in Australia. Mass timber products like CLT and GLT offer an exciting alternative to traditional construction materials and can help to reduce the embodied carbon of a project. Highlighting the excitement of this fresh development, Patrick Dark, Timberlink CLT/GLT Operations Manager, said "There was such an air of positivity when the panel came off the line. Everybody who has been involved in the installation, testing and commissioning of our NeXTimber equipment should be proud of what we've accomplished."
Timberlink is a leading Australasian timber products manufacturing business. It can be said that the company is at the forefront of integrated forestry and softwood manufacturing in Australia. The company owns and integrated supply chain that supports the certainty to continue to invest in building world class timber products. The NeXTimber by Timberlink team are now accepting orders for CLT and GLT as the facility is scheduled for full production by the end of this month. With fresh growths and development the company further aims to continue a supply long-term, efficient products to the Timberlink customers.
Tags: Cross laminated timber, NeXTimber, Timberlink, wood, wood and panel, woodworking