Vollmer's 15th subsidiary now in Thailand
&nbspTuesday, November 29, 2022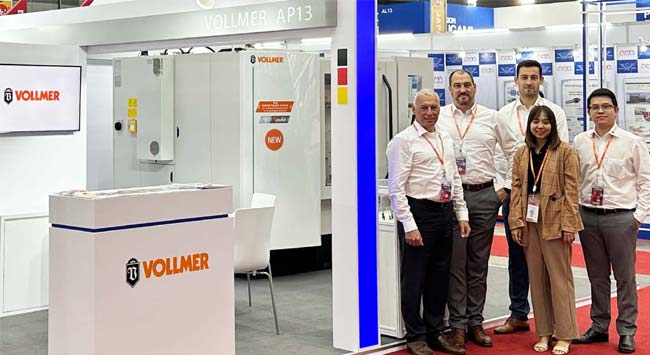 Swabian sharpening specialists Vollmer have opened their 15th subsidiary under the name Vollmer Asia Pacific in the Thai capital, Bangkok. Customers from Thailand, Vietnam, Malaysia, Taiwan, and the Philippines will make up the majority of the new location's clientele. The business operates independently in Japan, China, South Korea, and India and has a long history of doing business in Asia. In 2000, the business established its first office in Asia in Japan. Since 2017, Vollmer has had a representative office in Thailand. Andreas Weidenauer, who already ran the representative office, will now run the subsidiary there.
"With the founding of Vollmer Asia Pacific, we now have 15 subsidiaries worldwide and are consolidating our position as a leader in technology in the East Asian region," says Jürgen Hauger, CEO of the Vollmer Group. "By being in closer proximity to our customers, we will be able to provide them with even more comprehensive support and even greater expertise."
Swabian sharpening specialists Vollmer have their headquarters in Biberach an der Riss, Germany, and have been operating in the Asian market for decades. The company opened its first Asian branch in Japan in 2000, followed by offices in China, South Korea and India. With Vollmer Asia Pacific based in the Thai capital of Bangkok, Vollmer is now well placed to further expand its business in the ASEAN states (Association of Southeast Asian Nations), which include Thailand, Vietnam, Malaysia, the Philippines, Indonesia and Singapore.
With a team of seven employees and the support of dealers based in the region, Vollmer Asia Pacific will serve customers locally in countries such as Vietnam and Malaysia. The subsidiary will be managed by Andreas Weidenauer, who was already running the representative office and has more than 30 years of experience in the sector.
The market for German engineering has continued to grow in the ASEAN teritories. Both in the metalworking and woodworking industries, demand for Vollmer grinding machines for both carbide-tipped circular saws and for grinding and eroding machines for rotary tools is constantly rising. Tool manufacturers use Vollmer machines to produce cutting tools such as drills or milling cutters made from carbide or tipped with PCD (polycrystalline diamond).
Tags: Thailand, tools, wood, wood and panel, woodworking and manufacturing, woodworking industry, woodworking technology, woodworking tools, woodworking UK