smart2i – Hymmen brings more intelligence to industry
&nbspThursday, May 5, 2022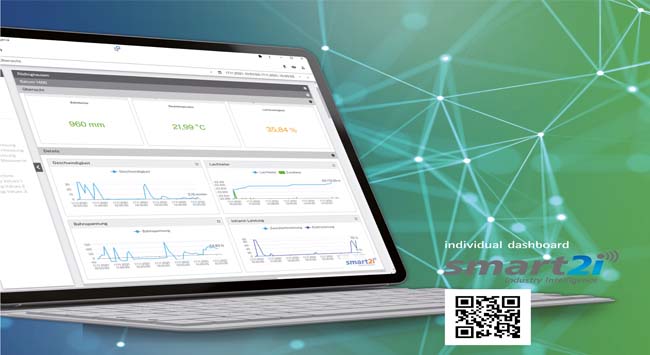 Digital printing will play a crucial role in the future of new material flooring and other woodworking products as it enables unlimited design and embossing-in-register flexibility and can be applied to a wide range of materials. This facilitates faster response times to market demands and trends while reducing material waste. Hymmen is market leader with its digital décor and structure printing technology. To be worth its price each surface technology must guarantee replicable surface quality. That is why Hymmen developed a quality control system that enables the producer to monitor and analyze its production parameters in real time: smart2i is an industry intelligence solution that makes it possible to ensure the desired product quality – reliably.
Exclusive patent partnership with i4F Patents & Technologies
Hymmen has a strategic patent partnership with i4F, group of companies providing patents and technologies to the flooring industry. i4F licenses the world's most advanced digital printing technologies and has exclusive licensing rights for all Hymmen's digital printing patents and technologies for flooring production, including Hymmen's award winning Digital Lacquer Embossing plus (DLE plus) technology offering unbelievably real optics and haptics.
Quality control of surfaces by industry intelligence solution
To ensure the reliable high-end surface quality Hymmen has developed a quality control system that can be integrated into new digital printing lines as well as into existing machinery. Hymmen's cloud-based software solution "smart2i – Industry Intelligence" is a system designed to continuously monitor and provide a permanent record of a machine's status, production and quality data. To be able to chose the best fitting components for the customer´s site, Hymmen operates manufacturer independent. Production data and recipes including different speeds of rollers and transports, UV or IR power settings, temperatures, process pressures or consumption quantities are stored securely, permanently, and cloud-based in real time. They can be accessed worldwide from any device presented in individually designed dashboards by authorized users. smart2i also includes intelligent, data-based analysis of machinery and equipment to optimize a manufacturer's entire production. smart2i is suitable for manufacturing industries of all sizes. Everyone receives the information tailored to his requirements individually prepared as a sound basis for decision-
making.
At any point in time, relevant parameters of the surface quality can be identified. The identification and resolution of unsatisfactory production performance sources can assist during customer claims
as well has help reach the desired surface quality again.
Read more news from Hymmen here.
Tags: digital decor, digital printing, embossing, Hymmen, patent, smart2i