Sennebogen introduces its new 30 ton material handler
&nbspTuesday, October 18, 2022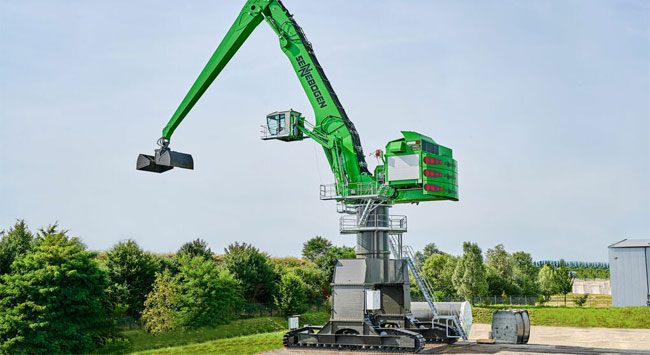 Sennebogen unveils 885 G series, the latest material handler ever exhibited at Bauma 2022. With an operating weight of over 320 tonnes and a range of up to 38 metres, the handling behemoth for the port is no doubt impressive. A device that dazzles with its astounding size and cutting-edge port technology.
30% higher load capacity
In view of the market competition, the Sennebogen's 885 G series flaunts a 30% higher payload compared to the entire working range in the industry. Individually configurable, users may operate with the highest level of accuracy and speed in addition to being especially productive and cost-effective. With a range of 24 to 38 metres, for instance, customers may select from five different equipment variations, and a variety of attachments can be operated flexibly thanks to the quick coupler on the stick and the strong hydraulics. Additionally, it is perfectly suited for heavy general cargo application and is capable of handling both huge containers and lifts up to 50 tonnes in weight.
Low operating costs, handling capacity upto 1,800T per hour
The machine is capacitated with Sennebogen Green Hybrid recovery technology in addition to the well planned machine architecture, which itself saves resources. This ground-breaking recuperation technique, available to be used with both diesel and energy-efficient electric drives, works incredibly safely and dependably while also reducing running expenses by up to 30%. Permanently stable performance and maximum availability are also guaranteed by a sturdy steel construction, controlled and service-friendly technology, and high-quality drive and control components. The modern grab automatic Safety Boom Lift, for instance, uses an automatic lift to protect the equipment, ship's hull, and port areas when the grab is closed.
The capacious, newly remodelled Portcab offers best overall view and comfort. Safety glass front and bottom windows are large and provide a clear view of the ship's hull. A new heating and air conditioning concept with a total of 14 air nozzles distributed in the room with fresh air and circulating air filters ensures this Optimum temperature and air conditions in the cab.
Tags: 885 G series, BAUMA 2022, Sennebogen, Sennebogen Green Hybrid recovery, woodworking, woodworking and manufacturing, woodworking event, woodworking industry, woodworking technology, woodworking UK