Schattdecor – Designing made simple with new "Go Decor" app
&nbspThursday, July 25, 2019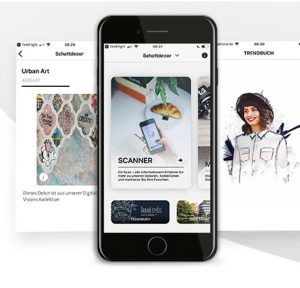 Schattdecor upgrades technology to create value. Customers may now download the "Go Decor" app and decide on the nature of interior services. Decoration made simple with the new Industry app. After introducing decors in interzum 2017, Schattdecor recently upgraded the technology to offer value added services to customers. This technology was developed in cooperation with FiliGrade.
Schattdecor offers valued services with new "Go Decor" Industry App. This watermarks adds significant value for customers when combined with an app that can used to scan it. By scanning the surface, customers can access the decor manufacturer's app page and will find a wealth of useful information there, such as the name of the decor, the colours available in the collection, or the history behind its development.
In order to make the app universally available and to establish it throughout the industry, Schattdecor and other competitors will be able to create their own mobile profiles and save information. The goal is to give customers the ability to quickly and easily obtain information about the desired surface – regardless of its manufacturer – by viewing the company's personalised profile and content at any time on their mobile device via the free app.
Benefits for Users
In the future, customers will find all of the answers to their questions about our decors in the industry app. By scanning any decor, customers can instantly learn more about the design and the manufacturer, as the mobile app will quickly and easily redirect them to the manufacturer's app page. In the case of Schattdecor, the digital content available through the app will reveal more about the development and application of Schattdecor products, decors, trends, concepts, and the latest collection colourways. As an added bonus, customers can conveniently save their favourites to a personal watch list.
As a special highlight for interzum 2019, Schattdecor has added a watermark to the decor images in its Trend Book for the first time. Similar to the actual decors, customers that scan the images with the app will be able to view all of the information about the decor.
Tags: decor, design, furniture, Interzum, Mobile App, Schattdecor, woodworking industry