REHAU Window Solutions extends its growth in Central Europe
&nbspMonday, October 16, 2023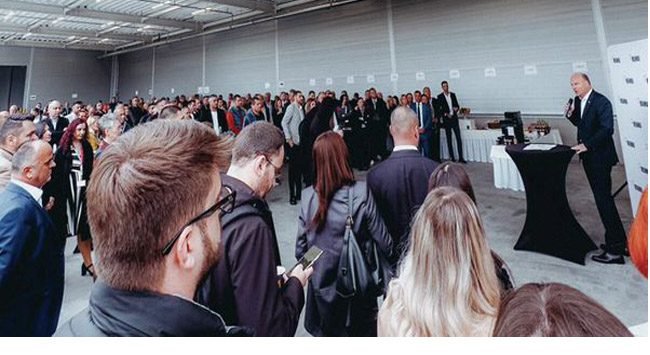 REHAU Window Solutions further expands its reach in the Romanian county of Sibiu to strengthen its position in Europe. It is now expanding its branch to become the central location for production and delivery in the southeast of Central Europe. Following the massive expansion of the facilities in Śrem, Poland, in 2022, the measure is a further component of REHAU Window Solutions' investment program in the European sales market. In addition, the polymer specialist is expanding and investing worldwide.
The logistics center in Sibiu County strengthens the company's position as a premium supplier. It provides an entire service portfolio around windows and beyond. This is a crucial step towards achieving REHAU Window Solutions' strategic goals on its path to becoming a premium system provider. "Now more than ever, Romania will be an important location for the positive development of REHAU Window Solutions. The very competent local partners and companies have great potential. At the same time, we are introducing the next level of the 360° window solution generation with the highly attractive ARTEVO system. These extensive investments provide REHAU Window Solutions with an excellent competitive position for our partners throughout Central Europe. Thanks to the recent expansions in Poland, we are moving even closer to our customers in the respective regions, amplifying our delivery performance and expanding our services and the well-known high quality," says Heuer, CEO REHAU Window Solutions.
REHAU Window Solutions continues to develop strategically, consistently and successfully into a premium system provider. This is the reason the division is recording above-average growth in all regions. REHAU Window Solutions invests specifically in the company's presence close to the market worldwide, thus covering the high demand and at the same time successfully and consistently implementing its global growth strategy in line with the interests of local partners. The company is pursuing a clearly defined growth path for the company and its customers at its locations in Central Europe. The local presence will meet regional customer expectations even better in the future, for example through significantly greater individualisation of product performance.
Read more news on REHAU Window Solutions here
Tags: Rehau, REHAU Window Solutions, wood, wood and panel, woodworking