OVVO announce partnership with ProEdge Technology CNC
&nbspThursday, October 26, 2023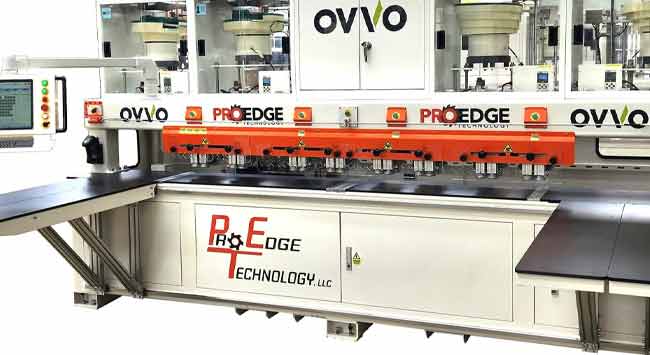 OVVO recently announced a strategic partnership with ProEdge Technology, one of the leading vendors in CNC insertion machines.
The PET CNC OVVO is the only machine in the industry with VERTICAL ROUTING CAPABILITIES on the bottom surface of the panel which guarantees accuracy of +/- 0.05mm of router depth by making the bottom of the panel a TRUE zero reference point. This machine removes the need for expense floating head aggregates or a live Z-axis laser measurement device on a flat table router.
OVVO products are a range of cleverly engineered, award-winning, invisible connectors that make joining wood simple. The connectors are installed during the manufacturing process so the end-user can simply click/push together cabinets, shop fit-out components, door frame assemblies or furniture without the need for tools, screws, or glues. The result is an accessible, sustainable product that saves time, money and effort for consumers and manufacturers alike. Manufacturers can also benefit from significantly reduced shipping costs, as items can be shipped flat-packed.
The latest addition to the OVVO product family is the incredible OVVO DOWEL (OD30) which is specifically designed to work in standard drill patterns. The OD30 is inserted into the panel without any glue to form a permanent joint in 15mm panels and above. These new connectors make it even easier for manufacturers to incorporate OVVO into their standard processes, saving time and money by eliminating glue and case clamping time. No additional equipment or capital needed to deliver tools free assembly products to the end customer.
This new self clamping, glueless, invisible OVVO Dowel (OD30) is designed for connecting cabinet parts and all types of furniture using standard drilled holes on BOTH sides of the joint, thereby simplifying the panel processing operations while continuing to provide all of the benefits of OVVOs' proven tools-free assembly methodology.
Tags: OVVO, wood and panel, woodworking, woodworking and manufacturing, woodworking and processing, woodworking UK