New Logosol B1001 hydraulic advances control
Published on :Monday, May 16, 2022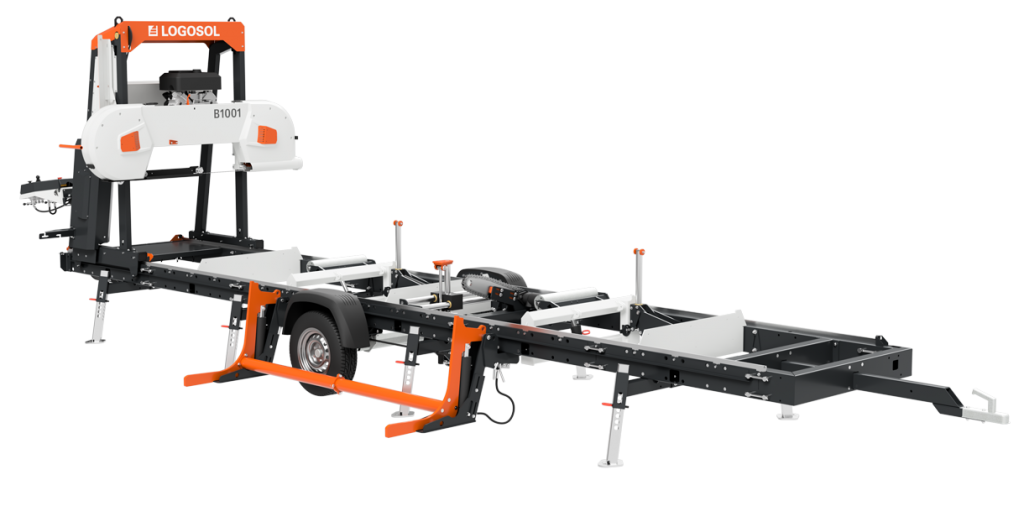 The all new fully hydraulic sawmill B1001 Hydraulic from Logosol is a fantastic sawmill that gives absolute control of the entire sawing process from the control unit.
This gives an efficient and comfortable sawing experience. The user may effortlessly lift logs off the ground and rotate them into the correct position. Being able to easily handle logs up to 2000 kg is a fantastic experience. A wise choice for those who want a first-rate band sawmill that is a pleasure to use!
Benefits with B1001 Hydraulic
Control sawing from the control unit and avoid all that heavy lifting.
The system's control unit is designed for optimal ergonomics and good visibility when sawing by being adjustable, both vertically and horizontally.
One may buy a complete sawmill with hydraulics or buy the hydraulics later.
The hydraulics are engineered for heavy logs up to 2000 kg,
i.e. the same size logs the band sawmill can handle.
User-friendly design with integrated functions.
A stable and stylish sawmill!
Swedish-made band sawmill of Swedish steel with quality in every detail. Materials and component selections that you normally only find on industrial machines.
Keep in mind that this is a machine with a long service life. With industrial quality of essential components and durable materials, maintenance is minimal.
Simple adjustments
The B1001 Hydraulic is easier to setup and use compared to similar brands in the same class. An big advantage is the height adjustment which is adjusted by fixed steps. That ensures that you make a quick and exact adjustment of the sawhead every time. A full turn is always 1" and you add another 1/8" for the kerf. On the scale of the height adjustment there is a Last Cut-Indicator that saves where your last cut was made which works as a clear reference before the next cut is made. That allows you to work quickly and comfortably with an accurate cutting result.
Powerful log clamps
The log clamps are equipped with sturdy handles and a robust design which ensures that the log is held in place with a great deal of force without leaving deep marks in the wood. They work equally well on round logs as well as on a square block that is cut into boards.
Reliable rail
A standard equipped B1001 Hydraulic can cut logs up to 4850mm in length and up to 1001mm in diameter. If longer lengths are needed the rail can be extended to the desirable length. The sturdy rail and log bed is designed to be placed on the ground. If the sawmill needs to be moved it can be loaded on a normal braked trailer and towed to the location where it will be used.
A pipe construction for the rail optimises the torsional stiffness which gives you a fairly light but robust rail that remains straight even when heavy logs are loaded on to it.
Tags: clamps, hydraulic, Logosol, logs, sawmill, Solid Wood, wood and panel, Wood Processing, woodworking and manufacturing, woodworking industry

Read Magazine Online