NET Studio.kitchen from imos AG
&nbspFriday, April 7, 2023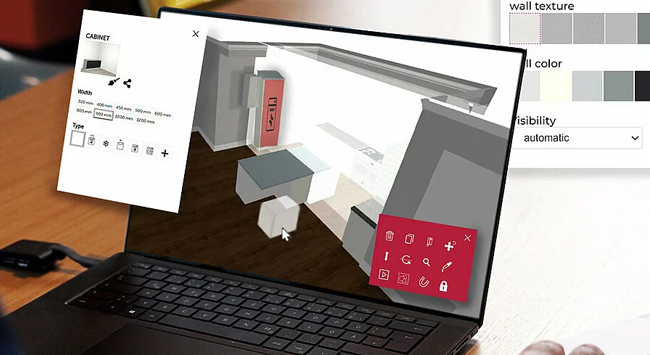 imos AG has come up with NET Studio.kitchen, designed for planning and selling kitchens, promises speed, intuitive operation and precision.
The cloud-based application enables professional planners at the point of sale to plan individual kitchens together with the customer with just a few mouse clicks. Online installation of data and applications guarantees up-to-dateness and reliability, this applies especially for catalogs and prices.
Go online, plan a room, create a kitchen layout, select a product line, generate sales documents – kitchen planning is that easy! NET Studio.kitchen is developed for marketing kitchens via exclusive sales partners or own kitchen studios – at the point of sale! Planning and orders from NET Studio.kitchen can be transferred directly to the manufacturing solutions imos iX and processed further – directly to the machine!
"move&match" increases efficiency in sales consulting. In addition to the classic approach of selecting and planning individual items, NET Studio.kitchen allows functional planning blocks to be positioned, dimensioned and moved ("move"). Subsequently, functions of the furniture are determined: Where should cooking, washing up or refrigeration take place? Which electrical appliances will fit where?
Only in the next step is the neutral planning converted into a product-specific one ("match") after the model series has been selected from the manufacturer's range and the desired design variants , such as color, front and handles, etc. – this happens largely automated.
NET Studio.kitchen is the innovative solution for kitchen manufacturers. Consistent from sales to production. Flexible and efficient through modern cloud services.
Tags: CAD, designing, imos, imos AG, kitchen, Net.Studio, planning, Software