Mirka launches the Ultimax Ligno
&nbspThursday, October 5, 2023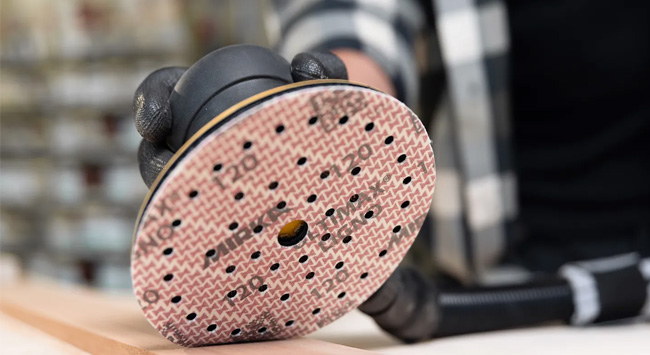 Mirka (UK) Ltd launches the Ultimax Ligno, the first abrasive developed purely for the woodworking sector this October. This new abrasive is designed with an 'hourglass' pattern which demonstrates unparalleled performance and effectiveness on wood substrates to ensure optimal material removal, surface finish quality and durability, and sustainability.
The new Ultimax® Ligno combines innovation with robust consideration for the environment. The production method reduces energy consumption as the process for curing the glue is more efficient. It also has superior adhesion with VOC-free resin, ensuring a safer and healthier choice for both users and the environment.
With the ceramic mixed with Blue Fired Alox grains, the abrasive's surface channels serve as pathways to direct the smooth movement of wood fibres to extraction holes, preventing clogging and enhancing sanding quality. This efficient product accelerates sanding operations while maintaining the cleanliness of abrasive grains for uninterrupted cutting and prevents the formation of a 'blanket' of dust between the grains and the sanded surface. The abrasive also uses a specially developed latex-impregnated paper to improve flexibility and adhesion and to control edge wear, extending its lifespan.
Ultimax® Ligno is available in a wide range of grits from 40 to 400 in discs, strips and soft rolls. The abrasive features a Multifit™ hole pattern which eliminates the requirement for precise alignment, as it is always correctly fitted to match the dust extraction holes. Praising the efficiency of the product, Neil Newbrook, business sector manager – wood, Mirka (UK) Ltd, says, "This is the most exciting abrasive development for the wood sector in many years. Through extensive testing, the R&D team discovered that the 'hourglass' shape's optimal cutting performance for wood sector substrates ensures exceptional sanding results, from start to finish."
Tags: abrasive, Mirka, wood, wood and panel, woodworking