LIGNA Trendspot- the epicentre of new products
&nbspFriday, April 14, 2023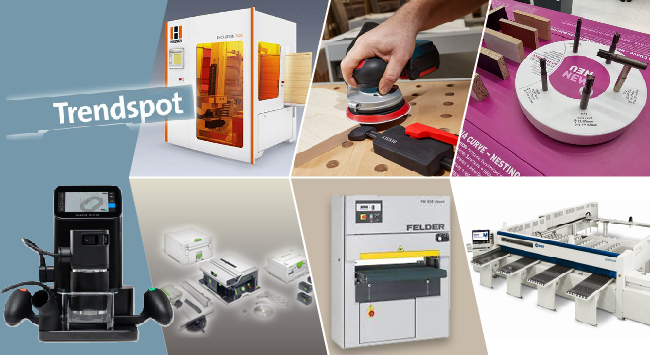 Discover a host of trending products, solutions and innovations at upcoming LIGNA. At this LIGNA the team presents several products and innovations from BESSEY Tool GmbH & Co. KG, LEUCO GROUP, IMA Schelling Group, SCM Group, Festool, Felder group, Holz Her GmbH, Shaper, the Fraunhofer Institute for Wood Research, Wilhelm-Klauditz-Institut WKI and Barth, etc, all experience live on site at LIGNA.23 in May.
BESSEY Tools
BESSEY, one of the world market leaders in the field of clamping and cutting tools, is supplementing its range with the patented WNS-Set-MFT horizontal pull-down clamp.
LEUCO GROUP
LEUCO is expanding its existing DP nesting cutter range to include the DiaCurve family, a pantented innovation that is not only interesting in terms of price, but also offers a range of advantages in terms of design.
SCM Group
The new Blade-Off system for circular saws from SCM is designed to eliminate any accidental contact between the operator's hand and the saw blade from the outset thans to intelligent sensor.
Festool
In the run-up to LIGNA 2023, Festool is adding a particularly handy yet fully-fledged table saw is Systainer format to its steadily growing portfolio of professional cordless tools.
Felder group
Felder's new FW 850 classic wide belt sander combines professional surface finishing with particularly compact dimesnions. In this way, it is said to provide performacne and flexibility at an unprecedented price-performance ration.
Holz Her GmbH
The EVOLUTION 7405 PinJet CNC machining center from HOLZ-HER now also sets wooden dowels-and that fully automatically.
Shaper
With the Origin Gen2, Shaper Tools is now launching an all-round optimised version of the hand-held CNC router that has caused a sensation in many workshops since its market launch in 2017.
Fraunhofer Institute for Wood Research
The Fraunhofer WKI combines various materials into high-performance building elements using minimal material and energy.
Barth
The new wendoLIFT family from Barth is all about the following three maxims: ergonomic working, minimising injuries to the employee and avoiding damage to the workpiece.
Tags: Hannover, ligna, wood, woodworking and manufacturing, woodworking and processing, woodworking event, woodworking events, woodworking industry, woodworking tools, woodworking UK