LIGNA: Inspiring Intelligent Innovations
Published on :Wednesday, May 24, 2017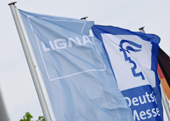 LIGNA is live now. Between May 22 and 26, the messe is abuzz with innovations oozing out from all corners of all the show-floors. Showcasing technology for the entire wood value chain – from harvesting machinery to industrial processing and production plant and equipment, LIGNA stands out from competing shows by attracting an international audience of top-level decision makers and professionals from all key sectors of the wood industry.
LIGNA's organizers, Deutsche Messe and the German Woodworking Machinery Manufacturers' Association, owe their upbeat mood to the dynamism of the technology landscape, as expressed in the show's new layout, the upswing experienced by the wood industry in many parts of the world and, not least, the growing tide of digitalization. Integrated manufacturing and digitalization are transforming the machines, systems and tools used in the woodworking and timber processing industries.
Industry 4.0, the Internet of Things, Smart Factory: These are the keynote themes of LIGNA 2017. They are the names and faces of a new generation of technologies that will empower users of all types to achieve greater efficiency and productivity and become more competitive.
Held in Hannover, Germany, from 22 to 26 May, LIGNA maps out the digitalization road ahead in all sectors of the wood industry and presents the latest technology milestones along the way.
Tags: German Woodworking Machinery Manufacturers' Association, harvesting machinery, industrial processing, innovation, ligna, may, messe, production plant and equipment, technology, top-level decision makers and professionals, woodworking industry, woodworking professionals