LIGNA.Innovation Network- countdown begins
Published on :Wednesday, September 22, 2021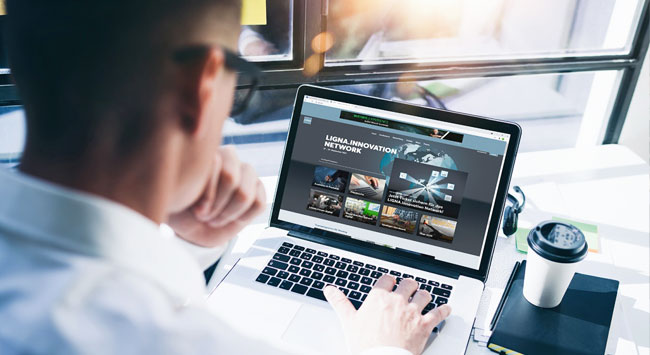 Count down begins for the most awaited event of the time, LIGNA.Innovation Network 2021. The digital edition of the show is all set to open its gate on monday September 27 and welcome the woodworking and manufacturing industry to the show.
The New digital event LIGNA.Innovation Network is the ideal place to meet and come close to the industry professionals and know about the latest innovations. Professionals will attend and  exchange dialogue  on the focus topics of Woodworking Transformation, Prefab Building Processes in timber construction and Green Material Processing, and highlight opportunities for the industry. The new format of Expo, Conference and Networking is organised by Deutsche Messe Hannover together with the VDMA Woodworking Machinery Association.
Over 110 national and international companies will showcase their latest innovations in the EXPO area of LIGNA.Innovation Network and share information on concrete solutions via livestream and video chats. Some of the key participants of the show are Biesse, Bürkle, DIEFFENBACHER, HOMAG, Siemens, Siempelkamp and WEINIG will join and concentrate on networking functions to reach visitors and connect with the participants.
The two-day conference programme in LIGNA.Innovation Network hosts over 80 international speakers and offer new ways of learning on the latest market trends in the woodworking industry. This will be streamed live from the H'Up in Hall 18 at the Hannover Exhibition Center.
The LIGNA.Forum digital in LIGNA.Innovation Network will focus on Woodworking Transformation in digitization and networking. Prefab Building Processes topic on the other hand will focus in timber construction. The session will concentrate on the presentations and discussion panels on topics like automation and efficient manufacturing processes in wood construction and ways to network woodworking.
In the Wood Industry Summit digital, the key focus will be on the Green Material Processing. Domain experts will bring forth the latest news from technical innovations resulted from new processing technologies of wood and wood components as the most important renewable resource for new materials and uses.
In the "Spotlight Handwerk" (Spotlight Craft), experts will address issues and advancements on asbestos and occupational health and safety, digital measurement in the craft trade or digitalization in training via video stream and chat offerings.
The next day September 28, 2021, Holzbau Deutschland will present the German Timber Construction Award 2021 at the LIGNA.Forum digital.
And on September 29, 2021, the DIPA (Digital Printing Association) Symposium on Surface Design with Digital Printing will be streamed live from the H'Up in Hall 18 as a hybrid event. Under the motto "Create your own surface", experts will highlight current trends for the design of high-quality and individual surfaces and report on their experiences.
Tags: DIPA, Hannover, LIGNA.Innovation Network, New digital event, timber construction, woodworking and manufacturing, woodworking event, woodworking fair, woodworking industry