Jowat Symposium receives overwhelming response
&nbspTuesday, November 22, 2022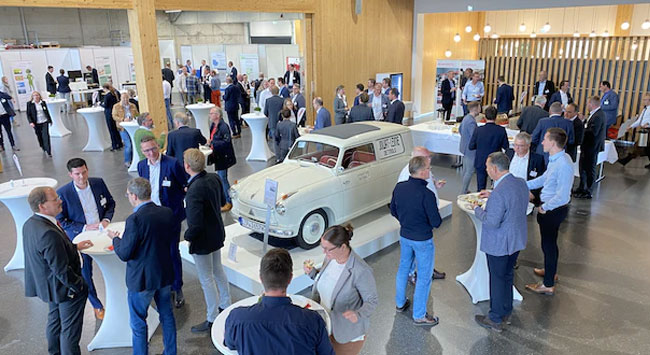 Jowat Symposium in its 19th year, has offered guests from the wood and furniture industries extensive experience. The renowned trade show's focus this year was on sustainability and future viability. A variety of sustainability-related topics were covered in the presentations at the symposium, including the potential of bio-based raw materials, the development of more environmentally friendly adhesive bonding processes, the effects of shifting raw material markets and disrupted supply chains on risk management in businesses, and strategies for creating an effective circular economy, particularly in the chemical industry.
Circular flows are the cornerstone of sustainable management
Which approaches ensure an enterprise's success during challenging times? What effects do closed loops have on and how do they advance sustainable development in the wood and furniture sector? More than 120 people gathered at the Jowat headquarters in Detmold for the renowned industry gathering in the House of Technology of the adhesive maker to discuss these issues. A panel discussion featuring experts from the sub-supplier industries, outside industry advisors, and representatives of the wood-based material, waste disposal, and recycling associations was held after the presentations to discuss the significance of a functioning circular economy for long-term industrial operations. Circular flows are the cornerstone of sustainable management, and they can only be developed if there is an open interaction between all participants throughout the process chain, Dr. Christian Terfloth, managing director of Jowat SE, stressed.
Many suggestions from processing experiences and fresh options from the Jowat adhesive range helped to wrap up the session. The depth and range of material presented at the Jowat Symposium, as well as the networking opportunities it offers, are also highly valued by attendees. The trade foyer presented the most recent information from machine makers and R&D and also offered a chance for open discussion with other attendees.
Read more news on Jowat
Tags: furniture industries, Jowat Symposium, sustainability, trade show, viability, wood, wood industries, woodworking, woodworking and manufacturing, woodworking event, woodworking industry, woodworking UK