IFMAC & WOODMAC 2023 gears up
&nbspWednesday, August 16, 2023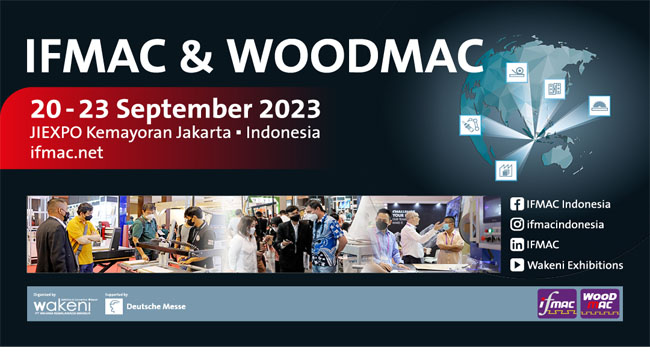 IFMAC & WOODMAC 2023 is about to open its gates to welcome its visitors from the furniture manufacturing and woodworking industry. The 10th edition of IFMAC & WOODMAC 2023 will start on September 20 and will continue till September 23, 2023. Jakarta International Expo as its epicenter, this trade show will offer exclusive business opportunities for the ever-growing, industry. Supported by Deutsche Messe under its portfolio of Woodworking Shows Worldwide, and modeling LIGNA's brand as the world's largest woodworking and wood processing tools, equipment and machinery exhibition for the Southeast Asian market, IFMAC and WOODMAC 2023 will be a renewed stage for furniture industry players who are enthusiastic about Indonesia's prospects in securing more market share in the global furniture industry.
On-track success with strong exhibitor support-
The show floor is about to house international companies along with homegrown Indonesian companies who are about to exhibit their innovations and products. 200++ of booth spaces already sold out, the fair is about to be an exciting spot for the exchange of industrial ideas and business. The various offerings to be exhibited include machinery, adhesives, coatings, paints, fittings and tools, timber materials as well as their intermediary wood panels, processing, surface treatment solutions, decorative components, foam and upholstery, and many other related parts required for furniture manufacturing. Collaboration with international furniture manufacturers, designers, and suppliers can help Indonesian furniture manufacturers to access new technologies, design trends, and distribution networks, which can support their growth and expansion. IFMAC & WOODMAC 2023 will see 200 exhibiting companies from 18 countries, opening new scope for meaningful business exchanges. With expected 12,000 visitors, the machinery-filled show floor will be augmented with several seminars led by industry associations sharing insights on market trends and latest technology developments. Visitor registration is open now to international trade buyers, corporate retail purchasers and everyone involved in the furniture trade.
Tags: IFMAC & WOODMAC, IFMAC & WOODMAC 2023, wood, wood and panel, woodworking, woodworking and manufacturing, woodworking and processing, woodworking event, woodworking industry, woodworking UK