HOLZ-HER 's EPICON at HOLZ-HANDWERK
Published on :Tuesday, May 10, 2022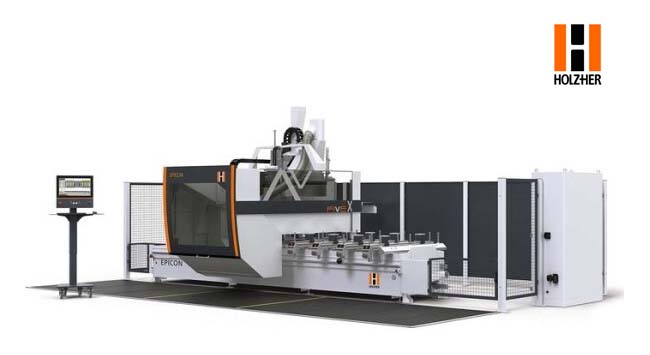 HOLZ-HER will be participating at the summer edition of HOLZ-HANDWERK and will showcase the latest technologies like EPICON and other. HOLZ-HER's EPICON series is the next generation of CNC woodworking. The EPICON 5-axis CNC machine opens up new horizons for implementing your creativity.
The design of the Gantry bridge and machine column was optimiszed using the finite element to ensure absolute precision and perfectly cut workpieces even with the basic model while simultaneously allowing extremely high acceleration and cutting rates. To this HOLZ=HER has now added high precision direct servo-drive, wear-free couplings and covered, precision linear guides – all covered by 10 year HOLZ-HER guarantee.
With its proven 5-axis technology and fully interpolating 13 kW, 5-axis spindle (as standard features) this machine guarantees extremely high drive holding forces.
The EPICON series is completed by a versatile and comprehensive range of optional equipment to satisfy all desires, allowing the EPICON to be configured optimally for applications in the fields of furniture production, staircase construction and model making as well as machining solid wood.
Being globally active and providing customers with the best possible solution has been one of the principles of HOLZ-HER since its foundation. HOLZ-HER can not only look back on over 100 years of experience and competence in woodworking and panel processing. HOLZ-HER offers a line of products matched to one another and always develops a complete product series, from an entry-level machine right up through all performance ranges to the comprehensive top model. All service activities and product training courses are planned in parallel to new products. This ensures that, in addition to being offered a new machine, customers can also take advantage of a complete range of services. This focuses on practical solutions and greater customer benefit.
As a Weinig Group company, HOLZ-HER benefit from synergies in development, production and sales, which also benefit our customers.
Read more news of HOLZ-HER here.
Tags: CNC, CNC machines, EPICON, HOLZ-HANDWERK, Holz-Her, weinig, woodworking