EVOLUTION 7405 PinJet CNC machining center from HOLZ-HER
&nbspWednesday, February 1, 2023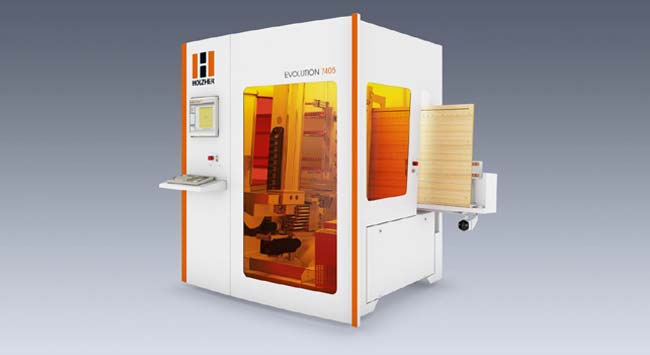 Another innovation from HOLZ-HER to take the industry by storm. An all-rounder can now do even more as the EVOLUTION 7405 PinJet CNC machining center from HOLZ-HER also sets fully automatic wooden dowels.
HOLZ-HER GmbH from Nürtingen near Stuttgart, part of the Weinig Group, has stood for innovative woodworking machines for more than 100 years. Among other things, the vertical CNC machines of the EVOLUTION series offer unique, patent-pending solutions for the complete machining of workpieces. One of the latest examples of Swabian engineering is the EVOLUTION 7405 CNC machining center, which can be recognized by the "PinJet" extension to its name.
According to the Nürtingen-based company, the EVOLUTION 7405 PinJet not only enables absolutely precise milling of all four workpiece edges and thus the complete formatting of panel material on less than five square meters of floor space. As of now, a very special functional extension also provides another unique selling point: the two-sided insertion of pre-coated wooden dowels (eight millimeter diameter and 30 to 40 millimeter length) through the drilling unit into the panel. All that needs to be done is to select the "Insert dowel" option in the control system, and the steps of drilling, pretreating the hole and driving in the dowel are carried out fully automatically.
The following key data for the EVOLUTION series also make promising reading: With a clearance dimension of 1,200 millimeters in height and unlimited machining in length while requiring the least amount of space, as well as machinable material thicknesses of eight to 70 millimeters, the vertical CNC machining centers from HOLZ-HER become true all-rounders that can handle complete machining in furniture construction, from drawers to carcase parts, furniture fronts and rear panels.
Tags: Holz-Her, wood, wood and panel, woodworking, woodworking and manufacturing, woodworking industry, woodworking UK