Cyncly to showcase first true end-to-end portfolio at LIGNA
&nbspTuesday, March 28, 2023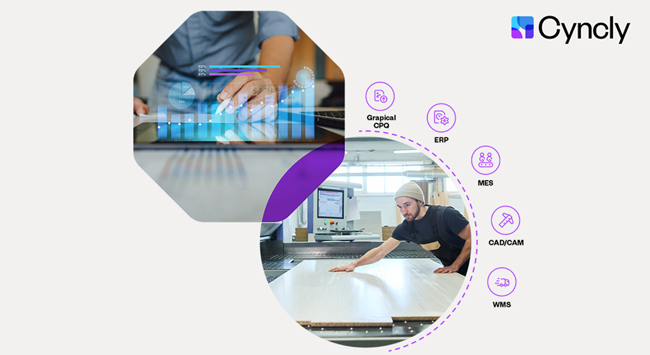 Cyncly, the new brand that helps make spaces amazing will showcase the market's first true end-to-end portfolio of manufacturing capabilities to LIGNA, the world's premiere event for woodworking manufacturers.
Cyncly's portfolio of software for manufacturers, including from 2020, 3CAD, Go2B, Mozaik, and many more, helps businesses maximize their hardware investment by improving operating efficiency and responsiveness to fast-changing customer demands. The company's range of integrated solutions, including VCPQ, ERP, MES, WMS and CAD/CAM, enable companies to streamline and accelerate the entire manufacturing process from start to finish.

"I can't think of a better venue for our first customer-facing appearance as Cyncly than LIGNA," said Karl Fuchs, Prokurist, Senior Director Sales, Factory EMEA at Cyncly. "Our end-to-end solutions are a new development for the market. These solutions will make a real difference for manufacturers looking to optimize their processes and improve their flexibility. Leveraging the capabilities of our leading products including Insight, 3CAD and Mozaik, furniture manufacturers can make the most of their hardware investment to achieve greater efficiency and profitability."
With its end-to-end software solutions, Cyncly helps manufacturers—as well as consumers, retail partners, and installers—make spaces amazing. Manufacturers gain a complete set of tools that are seamlessly integrated and easy to use, enabling them to optimize their production processes, streamline workflows, scale production efficiently, and reduce costs.

"The limiting factor to maximizing machine output is usually not your machines, but your ability to respond to the changing needs of the market, which highly is dependent on the flexibility of your processes," said Andrea Gnoato, General Manager of Kitchen, Bathroom and Furniture (KBF) Manufacturing at Cyncly.

At the LIGNA booth in hall 15, Cyncly will showcase how manufacturers can get the most value from their production investments by using the capabilities of modern, comprehensive industry specific software.
Tags: 2020, Cyncly, germany, Hannover, wood and panel, woodworking and manufacturing, woodworking and processing, woodworking event, woodworking industry, woodworking software, woodworking UK