BIESSE to showcase manufacturing solutions at Delhiwood
&nbspWednesday, December 7, 2022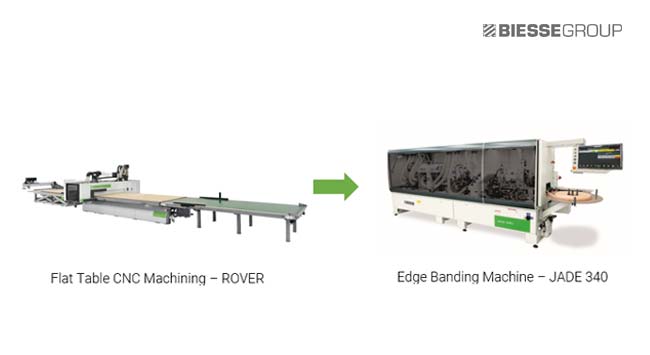 BIESSE gears up to showcase their latest comprehensive range of machines and software at Delhiwood in March. This range of machines will end the challenges experienced by the modular kitchen manufacturers who all are designing and making the Indian Moduler Kitchen.
BIESSE, one of the global leaders and manufacturers of wood, glass and stone machinery, offers a comprehensive range of machines and software to address the challenges the modular kitchen manufacturers are facing. BIESSE provides the customer with efficient and flexible solutions for faster deliveries.
Components can easily be assembled and installed on-site. Based on the volumes required by the modular kitchen manufacturers, BIESSE can propose several solutions summarised as follows:
The first solution includes cutting and drilling executed on a flat table CNC machine with nesting technology, plus the edge banding executed on a through-feed edge banding machine.
The second solution includes sizing on a beam saw, followed by edge banding on an edge bander and the drilling executed on a drilling machine.
The third solution is a completely an automatic solution with fully integrated processes. Large scale Modular Kitchen manufacturers can benefit most from this fully automated and integrated industry solution.
The digital revolution has led to a momentous change based on the technological innovation that involves production systems, businesses, the market, and the relations between these areas and humans. In addition to the above machining solutions, BIESSE offers a complete CAD/CAM software package to take care of the production, right from design to final installation. It helps the manufacturer in every design stage from creating solutions to the final render plan that gives a detailed preview of the solutions which have been specially designed. The Indian Modular Kitchen manufacturer needs a software that can curb the complex task of programming and using machines, simplifying everyday work while guaranteeing the benefits offered by current technological advances. Keeping that in mind, BIESSE offers a cutting-edge application software that is intuitive, with user friendly machine interface which is easily adaptable for smart factory. There's a host of features this software provides:
Design Freedom
Default Hardware Models
Inventory Supplier Module
Costing & Quotation
Machine Integration
Compatibility with 3rd Party Software
Planning & Assembly Process
Tags: ASIAN WOODWORKING, Biesse, DelhiWood, furniture manufacturing, KITCHEN MANUFACTURING, woodworking and processing, woodworking event, woodworking industry, woodworking UK