BESSEY to showcase the latest innovation in LIGNA.23
&nbspMonday, February 13, 2023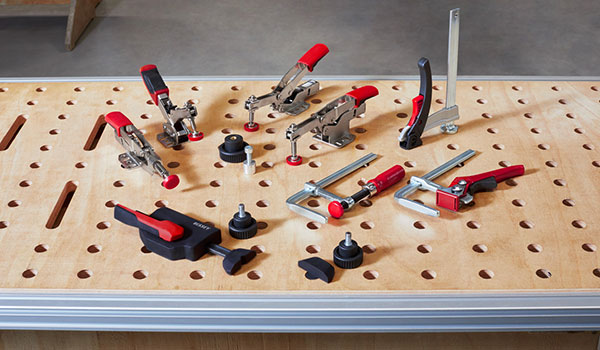 BESSEY, one of the world market leaders in the field of clamping and cutting tools, is supplementing its range with the patent pending WNS-Set-MFT horizontal pull-down clamp, which is designed to fix workpieces particularly flat and firmly on the multifunction table. The company will showcase this unique clamping tool at the upcoming LIGNA in May and introduce the patented innovation to the woodworking industry.
Ever since inception, BESSEY has concentrated in the research and development and their expertise gained over the many years is the basis for ever new innovative products which, coupled with recognised high quality, have made BESSEY a path breaking innovator in the woodworking world. The latest development from the Württemberg company is the WNS-Set-MFT horizontal pull-down clamp, with which BESSEY has added another specialised helper to its range of clamping tools.
Like all pull-down clamps, the WNS-Set-MFT is attached to the side of the workpiece so that no interfering tool parts protrude into the working environment. The lateral positioning of the clamping lever also serves the same purpose, so that appropriately fixed workpieces can be machined over their entire surface. So far, so familiar. However, the special feature of the new WNS-Set-MFT from BESSEY is the patent-pending pull-down mechanism: It ensures that the workpiece does not lift off as a result of clamping, but lies flat and firmly on the table – so that it can be machined even more precisely and reliably.
The WNS-Set-MFT can fix workpieces with a clamping force of up to 750 Newton. The knurled nuts usually required for this are part of the set, but are not absolutely necessary. It is only advisable to use them if the holes provided for their placement are worn and the clamp used has play. Also included are two bench hooks that can be used as an additional universal stop for workpieces. The WNS-Set-MFT is compatible with all common multifunction tables with 20 millimetre hole diameters and plate thicknesses from 19 millimetres as well as with correspondingly equipped Systainers.
Tags: Bessey, ligna, wood and panel, woodworking and manufacturing, woodworking event, woodworking industry, woodworking innovations, woodworking UK, workpiece