ACMOS has silicone-free edge band release agent
&nbspWednesday, November 23, 2022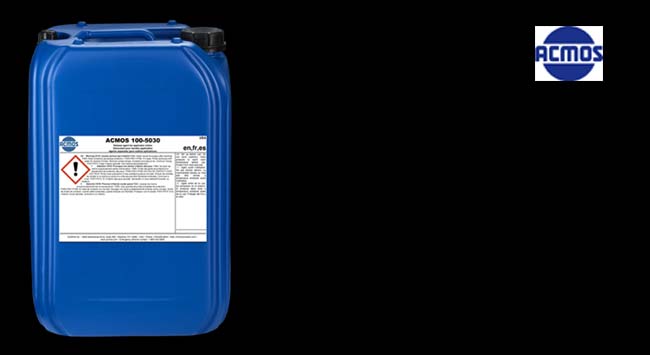 ACMOS produces and develops ACMOS 100-5030, a silicone-free edgeband release agent, which is suited for edgebanding machines equipped with automatic spray units to prevent the adhesion of hot-melt adhesives on machinery and tooling. ACMOS 100-5030 is water-based, non-flammable, and non-hazardous, which makes transportation and storage easier and is more cost-effective for users. It can be further diluted with water, making it low cost in use and is available in various packaging options.
ACMOS traces its commitment to the woodworking industry back to the 1950s, developing lubricants and release agents working closely with OEMs as well as adhesive producers. Since then, the product line has grown into a broad range of release agents, sliding agents and waxes, cleaners, as well as grinding coolants that are used throughout the world, in applications such as cabinet making, veneering, the production of engineered wood flooring, and many others.
In addition to ACMOS's standard products, they also develop custom solutions for woodworking end users with special performance requirements.
The hands-on technical support approach ensures customers' success. ACMOS work with leading OEMs as well as independent distributors to also support smaller scale woodworking operations and hobbyists alike.
ACMOS offers an extensive range of products for veneer pressing, glued wood, edge banding, impregnating resins, and the manufacturing of high-grade hardboard, MDF, and chipboards . The characteristics of our release agents depend largely on the type of glues and adhesives used within each application, including urea & melamine resin, phenolic resins, PVAC, hot melt adhesive, PUR adhesives, and more. However, equally important are the surfaces with which the release agent is in contact. By carrying out pioneering work, we have developed several solutions for top-quality wood, veneers, and plastic-coated surfaces. In addition, our portfolio includes proven, silicone-free standard products, which provides reliability for follow-on treatment.
Tags: ACMOS, Edgebanding, germany, ligna, Wood Processing, woodworking, woodworking and manufacturing, woodworking UK