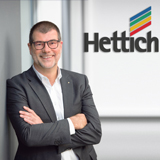 To know more on latest innovations in the fittings segment, Wood & Panel got an opportunity to interview industry expert Uwe Kreidel, Hettich, CSO.
Kreidel shared his vision on the positive perspective of pandemic, such as new business opportunities created by lockdown, latest trends in furniture fittings technology, touchless and sensitive kinetics in daily life. Read on.
Since the outbreak of pandemic, Work from Home set up forced investment in homeoffice furniture. How did this scenario create new business opportunities for Hettich?
Uwe Kreidel: Yes, we see a huge potential in this segment. Hettich has been present in the office sector with numerous fitting systems for decades and, on the subject of working from home too, we regularly present our innovative home furniture concepts that often only reveal the "workplace" function at second glance. That is why Hettich can offer the sector precisely the practical fittings that are now needed in the home-based office as well as in the professional office.
When working from home, the question is all about cleverly integrating a practical workplace into existing living spaces. After all, you want to work comfortably and productively from home, too. Therefore, planning furniture for the home based office demands a high degree of multifunctionality and excellent utilisation of space. This is where the high quality fitting and pull-out systems from Hettich make optimum use of storage space while providing top functionality with clever features and details. – And yet all without compromising on attractive, appealing design either. Because working at home should be homely.
The "Homeoffice Ideas Book" from Hettich shows how this can be done: with practical and easily implemented solutions that not only look good but also leave no margin of doubt in terms of function.
And why must a shelf unit in a home based office always look the same? Sliding and folding door systems, such as SlideLine, VerticoSynchro or WingLine, create everchanging constellations of open and closed elements. Pull-out shelves on the Quadro runner give the user additional, practical storage surfaces when needed. Further interesting design options are provided by "hiding" areas, functions or appliances whenever they are not needed. This is the perfect solution for anyone liking a tidy home: at the end of the day, the work utensils – and alternatively the entire home office space – then disappear behind folding doors, leaving everything out of view.
It's high time to think rooms and furniture concepts differently, and with our products, the industry can get creative and offer solutions that provide noticeably more quality, design and comfort to the end user every day.
What makes the AvoriTech drawer system a popular choice?
Uwe Kreidel: A major milestone for Hettich was definitely the drawer system AvanTech YOU. Here we have introduced a completely new product generation based on our tried-and-tested platform principle: AvanTech YOU can be perfectly adapted to all individualisation wishes, even after the furniture has been sold at the customer's premises. In this way, the desire for more personality and one's own style is taken into account, for a lifetime.
The versatile AvanTech YOU drawer system stands for easy-toimplement customer design in colour, format and material. Thanks to the platform principle, all components can be freely combined. This opens up a wide range of design options for individual furniture design and exclusive interior fittings.
The slender drawer side profiles in impeccably purist design come in a thickness of only 13 mm, and they are entirely without any visible holes, apertures or cover caps. This allows you to create purist, handleless designs on the inside and outside of the furniture. The drawers can be planned in three colours and five heights with steel, aluminium or wooden back panels. DesignProfiles and DesignCapes can be used to create a variety of individual accents. And you have a free choice of material for the drawer side inlays. Our clients can take advantage of this creative freedom, react quickly and convincingly to new design trends with AvanTech YOU and tap into new customer segments.
In order to put our clients' furniture in the best light, we havejust launched our new feature "AvanTech YOU Illumination". Now you can give your furniture its own light signature, providing atmospheric effects and a touch of elegance. In clip on designer profiles, homogeneous LED light at 4,000°K illuminates open drawers on the inside or makes an eye catching feature. Creating stunning visual effects, glass inlays with polished or ground edges can also be shown off in the best light. The necessary energy is supplied by a practical, rechargeable battery pack. The easy-to-install system does not require a complicated electrical connection and can therefore be easily retrofitted.-And the wow effect when opening the illuminated drawers is guaranteed.
We regularly update our platform systems, so the market can look forward to new AvanTech YOU features in the future.
Washbasin at the right height for everyone is your new attraction. Tell us about the advanced fittings technology that makes this happen.
Uwe Kreidel: Barrier-free bathrooms provide an added degree of safety and enhance quality of life every day – not only for people with limited mobility but for users of any age. Dutch bathroom furniture manufacturer Primabad B.V. was looking for an aesthetically appealing and practical solution for barrierfree washroom facilities – and found it in cooperation with Hettich. To this end, we have modified our lifting column system from the office sector: Now the wall-mounted "LegaDrive Systems Wall" makes it very easy to bring ergonomics to the bathroom. It conveniently moves the washbasin top to the right height: at the press of a button, the entire block is raised or lowered in a gentle, agreeably quiet movement cycle. This is a small but important contribution to improving ergonomics and convenience in everyday life. Further attractions for tradespeople and interior designers include the ease of installation and the ability to fit the system at any later date. Requiring only one person, installation is quick and easy. To customise the design of the washbasin environment, the system can be used for moving a total weight of up to 80 kilograms. As a result, "LegaDrive Systems Wall" is recommended as a versatile and extremely practical system that provides a highly cost-efficient key to designing ergonomic bathrooms for people of all ages – in residential housing construction and in healthcare as well as in hotels, shops or in public buildings.
Tell us about your future business plans.
Uwe Kreidel: There is one central topic that we would like to promote: Sustainability. Together with our customers and partners, we consciously implement sustainable solutions that make the furnishings flexible to use. In doing so, we are constantly rethinking functionality and boldly pursuing forward-looking paths.
We are consistently improving our own environmental performance: for more than 20 years, we have regularly undergone the stringent testing procedures of the European environmental management system "EMAS". Meanwhile, 6 of our Hettich production sites are EMAScertified.
We already design our products to be as material-efficient as possible: as little as possible, only as much as is technically necessary. But our main material, steel, must also become "greener". In 2021, we carried out a first pilot project with CO2-reduced steel and are pleased when our customers and partners accompany us on this path with commitment, even if this path costs a little more if necessary.
And we are committed to more circular economy. Our goal is: no rejects, no waste, but instead separability of materials and recycling of resources in the entire life cycle from production to use to reproduction. Furniture construction and our own product development will change fundamentally. Hettich is already involved in the German national DIN standardisation committee "Circularity of furniture".
And we have to rethink even further: In the "Sharing Economy" and "4R concepts, namely Rental – Reuse – Repair – Recycle, furniture will increasingly only be rented and reused in future. This calls for new business models. There will be new networks and partnerships: Then, for example, a furniture producer will team up with a digital company and develop novel, smart furniture solutions for the increasingly merging living and home environments.
We at Hetitch are happy about anyone we can inspire for more sustainability.