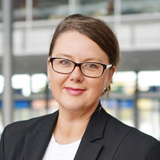 LIGNA.23, the world market place for innovations for the wood industry is only five months away. Despite a series of extraordinary challenges, including rising energy prices, material shortages and economic uncertainties in many markets, the woodworking and wood processing industry is in good spirits. Stephanie Wagner, Head of LIGNA shares with Wood & Panel about the prepartions and what new can we expect at LIGNA.23. Excerpts.
WPE: The much awaited physical LIGNA.23 is only five months away. How has been the response from the exhibitors?

Stephanie Wagner: We are pleased about a consistently positive response from our exhibitors. After four years, the industry needs the face-to-face meeting – we also notice this in our booking status. Already, more than two-thirds of the long-standing LIGNA exhibitors have been confirmed to participate in LIGNA 2023. The community is eager for the event in May and certainly has exciting innovations up its sleeve that we can experience live at LIGNA. It is an extremely high level of loyalty and trust in LIGNA as the best platform for the industry we are experiencing in these times! About five months before LIGNA, we still have registrations coming in daily.

WPE: LIGNA Preview is scheduled in February. What makes it an important event for exhibitors?

Stephanie Wagner: At our already traditional press event we connect the international media of our industries with our exhibiting companies taking part in the Preview. Here we provide a first insight into the highlights of the upcoming LIGNA, it's focus topics, and different formats offered for participants. We highlight the main topics with external keynote speakers. But most importantly, we provide a platform for exhibitors with the unique opportunity to announce the teasers for their innovations in this exclusive setting in the run-up to LIGNA. We want the media and the subsequent readers to get a glimpse and taste of the exciting things to come and be presented at LIGNA, a can't-miss-event.

WPE: LIGNA has always been a meeting place for the global industry. Have you planned any special networking event this time?

Stephanie Wagner: LIGNA has been and for sure will be THE networking event for the industry in every aspect. In some ways it is like a "class meeting". Despite many changes, generational changes and the aspects of ongoing digitization: LIGNA remains the place to be and meet business partners, buyers, the dealer network, colleagues from around the world even. It is a "melting pot" of long-standing connections and relations and of new bonds to be formed. Creating certain meeting points from our side like the Opening or the exhibitor night or different country delegation events is part of it, but is a core of LIGNA anyway, even without our organizer's ado. Our LIGNA community is a well-connected and very open-minded one in our experience.

WPE: Will LIGNA.23 offer additional digital products? Can you tell us more about it?

Stephanie Wagner: Our focus at LIGNA 2023 is bringing people together, bringing the market together, create an international platform for our industries to meet, to interact, to network and make business. The focus will be on the personal experience on site. Of course, by adding digital features we will also make some formats available to interested parties who cannot be present in Hannover AND extend the experience for those present, independent of geographical presence and time. For example, the presentations, lectures and panel discussions at our LIGNA.Stage – right in the heart of hall 12 – will be streamed live and can still be accessed on demand afterwards. We will also make our Guided Tours available online so that everyone can get an insight into what's happening on site and the highlights of our exhibitors. This combined with video and film material published all throughout LIGNA and feeding all of it via our various channels will create an experience in both worlds – the real-live personal one and the digital world. All this obviously supported by our exhibiting companies themselves highlighting their expertise and solutions online via our website features and the LIGNA app. And last but not least, everybody is able to enhance their live experience by preparing their visits and their meetings upfront and in real-time via our Business Dating online – visitor and visitor, visitor and exhibitor, and exhibitor with exhibitor.

WPE: The three focus topics of LIGNA.23 cumulatively hint at new ways of woodworking business in a responsible way. What more can we expect on the topics?

Stephanie Wagner: The special feature of LIGNA is that the entire value chain of the woodworking and processing industry is represented in one place. This is unique in the world as is the highlighting of focus topics that well before are set and discussed based on the industry's developments and trends in close cooperation with our exhibitors. We use those focus topics which are taken up in the presentation and stand designs of our customers to inform the LIGNA attendees upfront about what to expect. So, for 2023 we stuck to the already important themes of "Woodworking Transformation" representing the entire area of automation and digitization – an important indispensable factor for every business size and model. And one we have been carrying on over the last LIGNA editions. The other topics "Prefab Building Processes" – wooden house construction – and "Green Material Processing" – the wood-based bioeconomy – are also highly relevant and gaining momentum. Wood is the material of the future, and with respect to sustainability, climate, and circular economy aspects the link for all of our focus topics. But we are not limited to wood – besides our slogan "Making more out of wood", the reality is that our exhibitors work with and offer solutions for obviously more materials, like glass, stone, composite materials etc. However, regardless of the materials, the focus topics combine relevant interests of large groups of our participants and they will be addressed both by our exhibitors and by our various platforms, for instance within the LIGNA.Stage program.

WPE: Forest Owner's Reception 2023 in Berlin is planned to set the stage for LIGNA.23. Tell us more about the event.

Stephanie Wagner: On January 19, 2023, one day before the start of the International Green Week, over 1,000 guests from politics, business and associations will come together at the Forest Owners' Reception. Here, experts from the industry will exchange views with representatives of the federal ministries on the future of forests and forestry. LIGNA is supporting this event as a sponsor and will be represented by team members on site. This, like many others, is a great opportunity for us to address and connect with our target groups, to interact with the market, and to be part of it.

WPE: Is there any special programme for visitor groups coming together from specific countries?

Stephanie Wagner: We are happy to prepare individual tours and exhibitor meetings for groups from different countries upon request. In the past and also for this year, we are happy to welcome delegations from all over the world, from companies, political groups, associations, and interest groups. All delegations will be individually greeted and adhered to by our dedicated Partner Relations Managers, who create individual experiences, match with requested companies, and organize their individual visit to LIGNA – a very tailored program.

Visitors especially from foreign countries are also very much attracted by our Guided Tour offer, available on various topics at LIGNA. Groups of up to 25 participants are given short presentations and live demonstrations at various exhibitors' booths. Of course, they also have the opportunity to ask questions or make appointments afterwards.

And networking opportunities exist everywhere. From our opening reception, to press events, from exhibitor booth parties, to the exhibitor night, from the visitor lounge to the program at the LIGNA.Stage and the extensive programs offered by all our exhibitors at their booth. From Women of Woodworking meeting to matching job candidates with potential employers. And our delegations are being welcomed by special "country receptions". Networking is the key to everything at LIGNA and on top of it you can always be sure to meet many of old and new acquaintances, business contacts, and friends in the aisles and besides them!