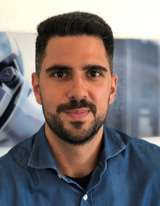 Sebastian Kohlhase, Product Manager, Marketing & Sales, Steinemann, speaks to Wood & Panel on moving ahead during the pandemic, plans going forward.
Tell us about your company's strength.
Sebastian Kohlhase: The motto we like to follow is TSQ – Total Surface Quality from start to finish. Our customers benefit from seamless service, in-depth process knowledge, and directly available spare parts and consumables. Then the fact that we make whole sanding systems, high quality abrasives, spares and drums and last but not least the global service network which delivers quality service and support and the fact that, experts could be called quickly when needed. Our employees are our foundation. We build on this through close cooperation with customers and partners from the industry and universities. The expertise we offer goes far beyond development and manufacturing. This is what we feel is where our company has its strength.
2020 has been a different year for everyone, how did you manage within the company in terms of supply chain and after sales service?
Sebastian Kohlhase: We can all admit the pandemic was a learning curve, in terms of entering the facility of our customers and offering hands-on service. Due to the fact that we had an in-place IT infrastructure we were able to adapt quickly to this new situation. For example, with remote assistance! We started to corporate with partners from neighbor projects in the production line that have service staff installed in the specific country and were able to enter the customers facilities. We trained them via remote sessions and could then enable them to undertake the installations on-site. This is an opportunity in which we see great potential for success even after the crisis. A positive was that we were able to do this even though we were working from home.
You have recently partnered with Stiles Machinery in the US. Can you tell us more about this partnership?
Sebastian Kohlhase: The negotiations of this partnership started one year ago and opened up new avenues. This is a favourable partnership because two important company needs were met in the middle. They wanted to expand their supply vertically and we have the machinery and sanding solutions to strengthen the position within the markets of composite panel industry and merging our expertise of CLT and mass timber production. We have decided to partner with a company that is well established to sell and service Steinemann sanders in the U.S. and to the Canadian market. We look forward to the expansion and knowledge that this partnership will bring for both companies.
Which sanding machine is the most popular from your company? Can you tell us its unique features?
Sebastian Kohlhase: The most popular by far is our newest generation of wide belt sanders the satos TSQ. To produce quality end-products you need a quality end-machine, and this is why the satos TSQ is the right choice. Key features we are focusing to ease the operation and increase the process and product quality of our customers. Some of our unique features is the self-adjusting belt oscillation and the state-of-the-art Siemens control system for automation, because they work together to enable to start and operate the machine faster and give the operator time to work on other things on site. Then we have the vibration monitoring system as basis for predictive maintenance, the drum and sanding platen adjustments are motorized to set the desired panel quality by a push of a button and the internal thickness measurement to increase process stability. All this together has made it one of the most advanced machines in our company.
Coming to BQC process control system, what are the highlights of this system?
Sebastian Kohlhase: We are very proud about the BQC – Board Quality Cockpit which was introduced to the market in 2017 and in 2021 now it has an increased innovation. The highlights of this system are firstly that it minimises human error and delivers uniform and reproducible panel quality, equally it is able to autonomously control the calibration and fine sanding process, at the same time providing high data exchange to help boost production performance and better decision making. Which in turn leads to more efficient processes by the management. This modular approach is an investment that could be done in stages insuring a short return on investment. Not only our newest machine generation satos TSQ can be equipped with the BQC also our installed base of satos machines can be retrofitted in tandem together making it very cost effective.
How has been the response to your webinar series?
Sebastian Kohlhase: The overall response to our webinars series has been surprisingly positive. Since spring 2020 we experienced a high demand in webinars and product trainings which also enhanced our digital selling services. As a system supplier one of our core strengths is our process know-how and our main concern is to support our customers with this knowledge to reach their board quality goals. And yes, Covid opened up new challenges but due to our good IT infrastructure we already had in place and the fast adaption of digital tools we were able to quickly turn things around. Today, we are able to involve our experts more rapidly in the deciding discussions, be it in the field with our service technicians or in our trainings and webinars, in installation and startup stages, or in decisive sales discussions. As a result, we are building webinar rooms to boost our digital presence and build the basis for our LIGNA.
LIGNA.21 is cancelled; however, Deutsche Messe is coming up with new digial avenues. Tell us about your preparations.
Sebastian Kohlhase: Yes, absolutely we are looking forward to the upcoming Ligna even though the hybrid version has been cancelled and will only be offered virtually. We are however excited about the new concepts they are offering. We decided to build up our own digital booth where visitors can dive into the world of sanding and walk through our sanding line, reachable from every part of the globe. It will be all connected and reachable from the Ligna digital platform where we also be linked. This is an opportunity for us to introduce new developments going forward without losing the hands-on communication and commitment that we are known for.