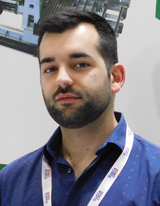 Lorenzo Esposito, Sales and Marketing Manager, Stemas indulges in a quick conversation with Wood & Panel Europe during IndiaWood.
Tell us about the response you have received so far in this IndiaWood.
Lorenzo Esposito: The response is good for Stemas, considering it's the first time we are in an exhibition in India. We already have a couple of customers who buy our machines from other countries and we have met a lot of manufacturers here, now that we are especially focused on the interior door market. For example for door panels, we reach out to three doors per minute. Manufacturers are very interested in this. Since we are into special woodworking machinery, of course we cannot bring our machines and sell here. In India, it is just the beginning of our relationship and hopefully this will transform into something concrete.
Special Woodworking Machinery, can you tell us what does this mean?
Lorenzo Esposito: In woodworking machinery you have very big players in the world. In India only, you have Jai, Biesse, SCM, Homag and others. Sometimes customers, even big customers try to find solutions, where they can combine different operations for special elements; that are when they come to Stemas and we build machines according to exactly what the customers want. We just produce the machine after they order. We can say that we are like a tailor. We tailor the machine according to the customer like a shirt or like a jacket.
What is your next step to promote yourself in India?
Lorenzo Esposito: During this exhibition I have met customers; I have met dealers that for sure can help us. I have also met media that will help us promote. Probably we will come again to Bangalore!