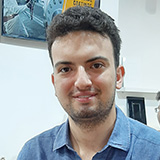 IndiaWood 2022 gave the industry an opportunity to meet face to face again after long. Wood & Panel spoke to Mehmet Bilgehan Bilgiç from Kubilay, the Turkey based coating company -who participated for the very first time in the event. Mr. Bilgic shared Kubilay's decision on penetrating the Indian market to explore new opportunities and business expansion plans. He further spoke on how they will directly import their products and make the Turkey based innovations available in the market.
How does it feel to get back to live events after two years?
Mehmet Bilgehan Bilgiç: It has been really difficult time for us since the March of 2020. We haven't been able to contact face to face with our customers for more than two years now and IndiaWood is a good opportunity for us to be back to our customers. We are actually looking for a new opportunity in India, as this is our first time in India and we are really excited about it.
What are you showcasing here at the IndiaWood? Are these products familiar to the European market or new, or you have customised and launching here suiting the Indian market. Tell us more.
Mehmet Bilgehan Bilgiç: We are basically Europe based manufacturers. We have been manufacturing wood coatings in Turkey for about 20 years. We also provide solutions for furniture makers in all types of different wood and other surfaces. We will bring products directly from Europe and it is not a problem for us. However, with time we will customise the products as per the needs of the Indian market which is a necessity for us. This is our first exhibition in India and we will directly export products from Europe.
Tell us about your growth plans is 2022
Mehmet Bilgehan Bilgiç: In 2022 we are focussing a lot on exports.  Since 2021 we have been exporting products to different countries, including Europe, Asia, Middle East and some African countries, and now in 2022 we are planning to add India to our list which is a very big country with big opportunities. I think through this exhibition there will be great opportunity for us to enter the Indian market and setting up our business here.
What are the special products you have for the Indian market as well as for the European market?
Mehmet Bilgehan Bilgiç: Besides regular manufacturing products, we also have some special products for interior designs, for example, we have redeveloped an antimicrobial wood finish which prevents growth of any viruses, bacteria and fungi on top of the wooden surface. After the COVID 19,  it's been a great opportunity for high traffic objects including dining tables, public transports and some other areas which includes touching by hand and in order to prevent transmission by touch I think it is a great opportunity and we try to support and fight COVID fit approaches and prevent transmission of viruses. We try to fight fit COVID during COVID times and now what we can do to support the spread and we come up with this product which is I think this is the first anti-microbial wood-coating in the world.