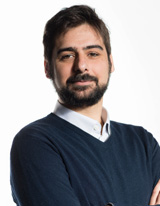 Giovanni Portelli, Sales Manager, Salvador, speaks to Wood & Panel on recent pandemic COVID-19, brand promotional strategy, supply chain situation, digital technology and lot more.
The ongoing Coronavirus pandemic has disrupted the way a company functions! How are you coping with that?
Giovanni Portelli: Although this pandemic hit all of us suddenly and unexpectedly, our advantage is to be a very flexible company: in a very short time we were able to rearrange our work to meet the safety protocols. During the whole period of forced suspension of the production all our offices operated from remote, and as soon as we have been able to start again, we provided all the protection devices to all our co-worker that must operate at our premises. At the present moment the administrative, service and commercial departments still operate from remote and go in the office only when needed.
It wouldn't be that hard just to get used to some further precautions and protocol to observe, but what we think is that this one is only a transitional phase. At the present moment it is hard to say how this situation will develop and how the market will adapt to muted socio-economic conditions. We think that the hardest challenge will be to rethink the commercial approach. When travels and face-to-face meetings shall be much reduced, it will be necessary to adopt new tools that allow the client to understand the technology and the quality of our production.
What about the supply chain? How are you addressing to the challenges?
Giovanni Portelli: For that concern the components ordered on a project basis, all of our suppliers are on the Italian territory and at the moment we are not aware of any upcoming problems or shortages. Then, we also have standard components that we stock, but at the moment we have a good supply level. This would give some margin in case of any delay.
All major exhibitions are either postponed or cancelled! How does this affect your brand? Are you planning any alternate brand promotion strategy?
Giovanni Portelli: Exhibitions have always been a very important meeting point for Salvador, even though in the latest years we noticed a resizing of many local and international events. From this point of view our company understood long ago the importance of digital means to allow the client to get in contact with our brand. Most likely this year social networks, trading sites, and tools like "remote showroom" will be the main instruments we will have in our hands.
Digital technology is something one must adopt to cope up this crisis. Where do you place yourself when it comes to digital technology? How are you now connected to your customers?
Giovanni Portelli: As I said before, our company already understood long ago that the digital means are essential nowadays, and on this field we think we are quite up-to-date with the possibilities that the technology offers. We are present on the main social networks like Facebook – Salvador WM and Linkedin – SALVADOR (Solidea srl) and we have a youtube channel – Salvador Tube that we update on a regular basis with the new installations and solutions.
Within short time we will have a new website that will improve the browsing experience and last but not least we are equipping our new showroom with devices to allow the client to see and test the machine from remote interacting directly both with the operator and with the machine itself.
Keeping hopes high, this too shall pass soon. But what will be its impact on the global woodworking industry?
Giovanni Portelli: At the moment it is very hard to say how this situation will develop. Even in the scientific world it seems that there isn't a unique opinion about the duration of this pandemic. Therefore any forecast now would be nothing more than an imagination exercise. But we are quite sure that wood, with its aesthetic and mechanical qualities, will always find a place in any market of the future. And our advantage is that cross cutting is always needed when it comes to woodworking. Being exactly between the first and second processing, we have a wide potential customer base. Now we need to be very focused on market demands, so that we will be ready for whatever the new trends will be.