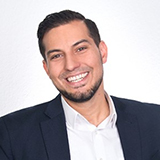 Wood & Panel had the opportunity to have a quick update on what's going on at Nurnberg while speaking to Dominic Perez-Ayala, Global Sales Manager HOLZ-HANDWERK, Germany.
The registration phase for the 20th anniversary round of HOLZ-HANDWERK has begun already. How has been the response from the industry leaders?
Dominic Perez-Ayala: The "official" registration phase has actually already passed some time ago and yet we are still receiving requests to participate. The response from the industry leaders has been great so far. Everybody is excited to finally have a woodworking show in Germany again, the first since the LIGNA 2019. All registered exhibitors can be found online in our database at holz-handwerk.de/exhibitors-products
What is new in the upcoming trade fair amidst "New-normal" environment?
Dominic Perez-Ayala: Well, I think the success of the HOLZ-HANDWERK is based on our commitment to keeping it simple and down to earth, and that we offer the industry a meeting place where our motto "Discover Experience Do" takes centre stage. It defines the character of the show, the machines are up and running, it's a very physical experience, because our visitors are able to try, look, feel, touch all the products on display. Be that machines, tools or fittings for example. Of course we will see plenty of innovations, new products, new faces and tons of action at the upcoming HOLZ-HANDWERK. A new forum, which we are holding together with FENSTERBAU FRONTALE, is dedicated to the topic of how digitalisation can be practically implemented in the skilled trades and gives our visitors approaches to solutions for the digitalisation of their own businesses, a topic that has certainly gained additional momentum globally due to the pandemic. Our focus on digitization leans toward educating the visiting companies, which consist mostly of small, medium or semi-industrialized carpentries or joineries. We will offer them a supporting programme that will hopefully give the companies impulses not only for their daily work on the machines, but more of a digital approach on their economics and company management.
Besides that, we are thrilled that the HOLZ-HANDWERK 2022 has been chosen as the platform to showcase an industry project called "Woodworking made izy" and we look forward to providing support. "Woodworking made izy" is a joint project started by the 7 world leaders in woodworking machinery industry, BIESSE, BÜRKLE, HOMAG, IMA SCHELLING, SCM, WEBER AND WEINIG, who are working together as a team in defining a standardized interface to connect all their woodworking machines, machine to machine, and machines to the customers' Manufacturing Execution Systems. For the seven companies, such a ground-breaking decision to team up and put aside each individual's competitive standpoint, was led by providing a joint solution to their customers and by vastly improving manufacturing processes.
Do you think face –to-face meets are important over the digital trade fairs or both are important in the industry? Do you plan to have a digital edition besides live in-person edition?
Dominic Perez-Ayala: I believe that Face-2-Face meetings are the most important form of communication in the business world and trade fairs give you that opportunity. Especially for an industry such as the woodworking industry it is even more important experience the products and a digital trade fair cannot substitute that. Therefore, our focus is on the live in-person edition of HOLZ-HANDWERK, where the living material wood in all its facets takes centre stage and creative doers with a hands-on mentality come together
Besides the big brands do you see excitement from new participants in the trade fair?
Dominic Perez-Ayala: Yes, we see much excitement coming from first time exhibitors, also internationally from Turkey, Italy or the UK and we are absolutely positive that each one of them will leave Nuremberg as HOLZ-HANDWERK fans.
Tell us about your indulgence towards health safety and adoption of COVID-care protocol. 
Dominic Perez-Ayala: Since 3 April 2022, our events are no longer subject to official Corona requirements or access restrictions. We have adapted our protective measures on-site to the current situation and continue to offer you a safe framework for your business with ventilation, increased cleaning intervals and disinfectant dispensers. General protective and hygienic measures remain recommended on a voluntary basis, in particular maintaining the minimum distance, wearing medical face masks as well as hand hygiene, precautionary and regular self-testing and coronavirus vaccination. Hence, we believe we will have a very positive atmosphere and perhaps an almost normal trade fair environment.
This year's HOLZ-HANDWERK will be different than usual as we will have a premier with our "summer edition" from 12 to 15 July 2022 in Nuremberg and this will be a unique opportunity to make business contacts and share knowledge and to experience our summery, historic old-town district with genuine Nuremberg bratwurst and a cool Franconian beer all around the trade fair! Of course, as always there will be a complete range of pioneering technologies and innovations on display.
Thank you and see you in Nuremberg at HOLZ-HANDWERK's one time "summer edition"!