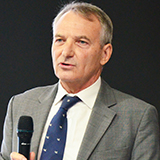 Wood & Panel got up close and personal with Dario Corbetta, director of the international biennial exhibition of technology for the furniture and wood industry, scheduled at FieraMilano-Rho next October 12 to 15. Excerpts:
Xylexpo represents the most important meeting place for the Italian woodworking industry. How do you see the enthusiasm growing for live meet after such a long gap?
Dario Corbetta : There is great expectation and interest for this event, as we can observe by two factors. The first concerns the exhibitors. We estimated that it would have been a different Xylexpo than in the past, for the reasons we know, and we made choices that rewarded the quality of the exhibition and not the sale of spaces. Today, however, we have about 20 companies on the waiting list who decided too late to participate and therefore will not be able to be with us in October. In fact, the pavilions are fully occupied with an offer on display characterized by high technology based on sustainability and digital transformation. The second concerns visitors. We have recently opened preregistrations for visits and subscriptions are already numerous, with a higher percentage of foreign operators than in the past.
Big topics of Xylexpo 2022, Digital transformation and Environmental sustainability are the new digital dimension of the event. Tell us more on the same.
Dario Corbetta : Digital transformation is there for all to see, and it's something we experience more and more in our lives on a daily basis. The manufacturing sector is naturally involved in this transformation with production systems increasingly connected to each other and to the network, and with remote controls that were unimaginable until yesterday. In recent years, many governments, especially European ones, have given incentives to invest in advanced technology, undoubtedly accelerating this process.
Recently, we have discussed a lot about sustainability and the impact on the environment caused by production systems. This issue now appears in the background due to the wartime scenario that we are unfortunately facing. However, it's more topical than ever, and European companies will soon be required to submit a sustainability report. The larger ones already are. Xylexpo, therefore, offers all manufacturers of wood products the opportunity to see first-hand the latest technologies in terms of digital transformation and sustainability. An opportunity not to be missed.
How far do you think Xylexpo 2022 will be a comprehensive event for the industry?
Dario Corbetta : Xylexpo will undoubtedly be an all-round event. The technologies on display cover all wood processing from logging in the forest onward. So, primary operation of raw materials, production of semi-finished wood products, windows, tables, chairs, solid-wood and panel furniture, coating and surface finishing- All in the name of the best technological proposal, as mentioned.
Xylexpo 2022 is moving from Spring to Autumn. How will this decision impact on the exhibitors and visitors' participation?
Dario Corbetta : As to exhibitors, the halls are sold out, so the decision was well received. For visitors, as mentioned, the first signs are extremely positive. I would add that Xylexpo is held concurrently with BIMU, an international trade fair dedicated to metalworking machinery, and many visitors of BIMU are also interested in Xylexpo and vice versa, causing a synergistic increase in visits.
Xylexpo will thus begin the innovations cycle for the next two years. Is the Italian industry ready to welcome business momentum from October onwards? If so, what can we expect from the show?
Dario Corbetta : There is no doubt that after the pandemic and a long period without trade shows of the level of Xylexpo, expectations are high and exhibiting companies have a lot of new things to showcase. Expolaza, the Xylexpo online catalog, which can be viewed at xylexpo.com, gives a preview of what will be on display. I suggest everyone to browse it carefully to get an idea of the products before visiting the trade fair.
How far the event is expected to value circular economy and explore its role in the Italian market?
Dario Corbetta : The topic of circular economy goes hand in hand with sustainability. We hope that the impact of human activity on the environment will once again become our first concern, as it should be. We look forward to seeing you in Milan to talk about it together also at our conferences organized in the Xylexpo Arena conference area, located in hall 24.