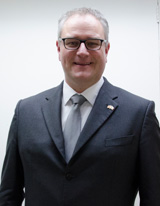 It's just a little more than a month left for the first LIGNA Preview Digital. We had a chance to speak to Christian Pfeiffer, Global Director LIGNA & Woodworking  Shows at Deutsche Messe, Hannover to know what's new this year! Read on.
For the first time in the history of LIGNA the Preview will happen on the digital platform. How has been the response to the LIGNA curtain raiser in this all new avatar?
Christian Pfeiffer: The first LIGNA Preview Digital will be held on 11 May. Having spoken to a number of exhibitors, we are confident that the new concept will be very well received by exhibitors in these challenging times, and that many media will tune in in May to find out about the current status of plans for LIGNA.21.
The three focus topics of LIGNA.21 cumulatively hint at new ways of woodworking business in a responsible way. What more can we expect on the topics?
Christian Pfeiffer: There will be plenty for visitors to experience in relation to the three focus themes. With "Green Material Processing", LIGNA 2021 will highlight the economic and technical innovations that result from new ways of working and processing wood as the most important renewable resource. The theme "Woodworking Transformation" LIGNA has taken up and developed over the last editions with our exhibitors will focus on current and future developments in automization and digitalized product solutions and work processes and the consequences for craftsmen and industry alike. The topic "Prefab Building Processes" focuses on developments and opportunities that arise from this for the entire industry. Renowned exhibitors will present their products and innovations. The three focus topics will also be taken up in the LIGNA.Forum and the Wood Industry Summit, where top-class experts will shed light on and discuss the top trends.
With the change in format, tell us about the participation enthusiasm in LIGNA.21.
Christian Pfeiffer: The response to LIGNA.21 has been very positive. Despite the challenges posed by the Covid 19 pandemic, we are seeing high demand for stand space. We expect to fill 10 halls and the outdoor area again. Six months before the start, 900 exhibitors have already registered, including Homag, Biesse, Cefla, SCM, Weinig, Robert Bürkle und Unimak. This shows that after the many months of lock-down, the industry is longing for a face-to-face event and wants to get back to normality. Because the infection will probably be with us for a while yet, we will be staging LIGNA as a hybrid trade show for the first time, thus complementing the on-site exhibition with digital offerings. In more detail, this means that exhibitors in the halls will also be able to reach out to visitors and present themselves online on our LIGNA.digital platform. The additional visibility will enable them to increase their reach and expand their opportunities for interaction with existing and new business partners. With the new digital participation formats we also want to include exhibitors from important markets who will not be able to travel to Hannover. LIGNA's online platform also enables visitors who cannot be on site to participate virtually and experience the industry's innovations.
'Business dating' sounds very interesting and innovative. Can you briefly tell us about it?
Christian Pfeiffer: For the first time at digital LIGNA 2021 we are giving exhibitors the opportunity to meet their trade visitors digitally as well. With our new "Matchmaking & Business Dating" next to giving visitors the opportunity to publish their own profile, the advantage for exhibitors and visitors alike is that they can find each other according to their interests, contact goals or other criteria, make appointments with each other and get in touch via video call. New options for making appointments, including a convenient calendar function, are available for this purpose.
Are there any special virtual only events being planned?
Christian Pfeiffer: We aim to provide exhibitors and visitors at LIGNA with a secure and successful marketplace. The highest possible standards of hygiene, safety and medical care will be ensured for the presence in the halls, forums and other events in the supporting programme and on the exhibition grounds, in line with the regulations in force in the autumn and in compliance with the strict specifications of the Health Department and the Robert Koch Institute. We are not yet in a position to assess what will befall us all in the coming weeks and months, and thus also LIGNA, and which will influence further planning. Therefore, as things stand, the LIGNA.Forum as well as the Wood Industry Summit will be streamed digitally and will be available later on on demand. Whether visitors will be able to take part in the forums on site will therefore depend on the security regulations in force in September and the pandemic situation.