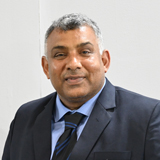 During IndiaWood, Wood & Panel had the opportunity to speak to Balkar Singh, Sales Manager and Key Account Manager, Indian subcontinent.
Wood & Panel: Live events are back after a long gap. How does it feel to be here at Indiawood 22?
Balkar Singh: We were very glad to welcome again our partners and clients to a live event. We registered a great affluence to our stand and a huge interest for our wide range of technological solutions for the entire woodworking sector. The return in terms of orders, deals and contacts on all product types was very high and Indiawood confirmed itself once again as a leading exhibition for the Indian Market in the woodworking industry.
Wood & Panel: SCM is celebrating 70 years. Congratulations. How has been the journey?
Balkar Singh: The Group's Seventy-year anniversary is, on the one hand, an important achievement while, on the other, it should be a stimulus to continue along a successful path based on ongoing innovation and sustainability, or rather, with a long-term vision that guarantees long life and a better future for our company. We shall apply the same logic as in the past as we set out along this path, focusing on both organic growth that aims at innovation, digital transformation and internationalisation, and on partnership research in Italy and abroad in all of the key sectors, to complete our solutions and technologies for machining wood.
Since 1952 our mission is to supply the widest range of products for the entire sector: for furniture industry, windows and doors production, timber construction and artisan businesses. We aim at being a one-stop partner – before a supplier – with our unique solutions and know-how, to accompany clients in optimizing their production processes and business projects.
Wood & Panel: Coming to India, where does SCM place India as their market?
Balkar Singh: SCM continues to be a benchmark partner for this market thanks to its ability to offer a wide choice of technological solutions that are unique at international level and therefore satisfy the needs of the entire industry: from the artisan to industry, from panel to solid wood machining, from furniture to windows and doors.
In India, as with the whole area including Bangladesh, Nepal & Bhutan, SCM has made a strategic investment to provide local businesses in the woodworking industry with an even more extensive, all-round assistance. This is thanks to the specific warehouses and to the local experts and technical and sales staff. We aimed at providing an even more direct, widespread assistance at sales and services level to all the businesses in the sector, from craftsmen to large industries and at every stage of the relationship with the client, from pre to after-sales.
Wood & Panel: You are highlighting Stefani KD here. What are its unique features?
Balkar Singh: Automatic, productive, versatile, Stefani KD is the ideal edge bander for all those companies that need to produce many panels for both small and large batch production. Among the numerous unique advantages: the possibility of using two different glues (Polyurethane and Eva) with an optimal jointing line, thanks to the SGP glue pot; the continuous and high quality use on every type of panel, even the most delicate ones, thanks to the new polyurethane pressure belt; an astonishing finishing quality and invisible joint line even with panels up to 60 mm thickness, with AirFusion+ technology; automatic set-up and edges with two different radii thanks to numerically controlled axes. In addition to these, the range can also be equipped with the new 'fastback' panel return devices, which allow for maximum productivity and machining speeds of up to 20 m/min with a single operator. Regarding the software, SCM Maestro active edge allows optimum utilisation and maximum performance. Stefani KD can also be integrated with the IoT platform Maestro connect, the system for collecting and analysing data from SCM technologies, which enables full control of the production flow on the one hand and the implementation of intelligent and predictive maintenance models on the other.
Wood & Panel: How is the customer accepting Maestro digital system here in India?
Balkar Singh:  Our Software Solutions Maestro are specifically designed for work preparation and production, as well as for monitoring, maintenance and servicing. Maestro can interface to any MES solution to support our customers in production scheduling and planning.
All our machines are equipped with a dedicated Maestro Software such as Maestro CNC and Maestro Ottimo Cut to support the woodworking companies it the design, optimization and data generation.
The woodworking industry in India is moving very fast from so called "unorganized" joineries to "organized" Woodworking Industries. Maestro being our Digital platform will play an important role in this transformation process.
Wood & Panel: Any plans of expansion in South East Asia?
Balkar Singh:  India as well as other countries in South East Asia, such as Vietnam, Indonesia, Malaysia and Thailand are among the most important markets in regards to furniture production worldwide.
With our Subsidiary "SCM Asia" located in Malaysia KL, a dedicated local team of SCM Sales and Service Engineers as well as our strategic local partners in all countries around SEA, we will continue to expand our activities in the whole region.
As already mentioned before, internationalisation is a main pillar of our growing path which we will go hand in hand with our customers in India, South East Asia and all around the world.