Wood-Mizer expands sawmill series
&nbspTuesday, January 31, 2023
Wood-Mizer expands sawmill series with latest introduction of LT15CLASSIC WIDE Mobile.
The popular, versatile, and compact LT15 sawmill series expands with the introduction of the LT15CLASSIC WIDE Mobile, that combines the features of the mobile LT15 sawmill with a wider sawhead. "It makes an interesting offer for companies and individuals who need to cut larger logs away from their sawmilling workshops. The LT15CLASSIC WIDE Mobile sawmill has been built based on proven and reliable engineering designs from the proven LT15 models, which have earned worldwide recognition among users," says Hubert Powietrzyński, Sales Manager at Wood-Mizer.
The LT15CLASSIC WIDE Mobile features a portable chassis for transporting to any place, allowing the user to start sawmilling immediately. To start sawmilling, the user only needs to remove the fenders, unlock the protection securing the sawhead during transportation, and level the bed against the ground.
The LT15CLASSIC WIDE Mobile comes with a trailer package (up to 1500 kg), including an axle with wheels, a hitch with a support wheel, eight adjustable outriggers, a light bar, side positioning lights, and fences. The sawmill bed sections have been redesigned and strengthened for increased integration with the chassis, while the electrical wires are secured under special covers.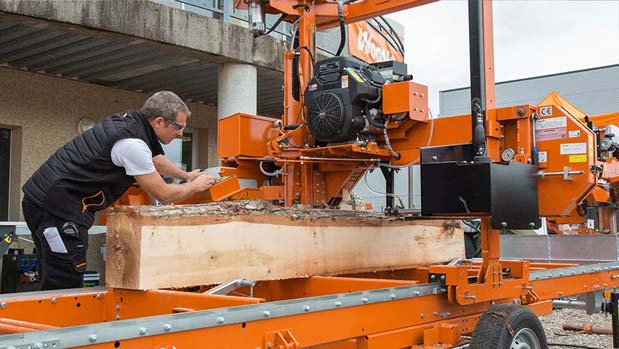 Another essential feature of the LT15CLASSIC WIDE Mobile is a wider sawhead which allows for sawing logs with a maximum diametre of 90 cm, making this model the largest capacity sawmill in the entire LT15 sawmill range. The clearance between blade rollers increased to 88 cm, allowing for sawing cants with a maximum width of 82 cm and the maximum thickness of the board at 27 cm. A redesigned sawhead to cut wider logs requires 4470 mm long sawmill blades fed on the standard 483 mm band wheels. The original Wood-Mizer 32-35 mm wide sawmill blades allow productive and economical sawmilling. With the thin-kerf technology, the operator can produce much more timber from every log while generating a reduced amount of sawdust.
Smarter and faster sawmilling is possible with efficient and compact main power units – either the 11 kW electric motor or the 25 HP gasoline engine.
The LT15CLASSIC WIDE Mobile sawmill is now available in select markets and offered with a 2-year Wood-Mizer warranty.
Tags: LT15 sawmill series, sawmill, wood, wood and panel, Wood-Mizer, woodworking and manufacturing, woodworking and processing, woodworking industry, woodworking UK