TOMRA highlights wood sorting solution at LIGNA
&nbspTuesday, April 18, 2023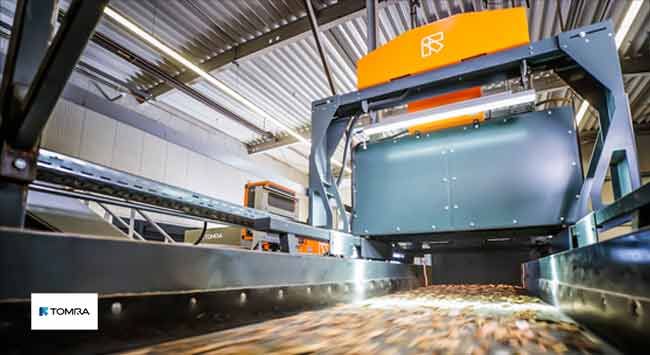 At LIGNA 2023, TOMRA will detail the advantages of its full solution for wood sorting applications at its booth and on stage. How waste wood can be turned into a valuable secondary resource and which role advanced sorting technology plays are the important question for woodworking professionals, shall be answered at TOMRA stand in upcoming LIGNA .
As the industry aims to increase the use of recycled content in the manufacture of wood-based panels and improve cost efficiencies, the recycling of waste wood increasingly gains importance. High-precision sorting processes are a gateway to accessing recyclable materials and creating a circular economy for wood. Cleaning steps are decisive for the quality of the end product and the amount of recycled content new wood-based products contain.
TOMRA's X-TRACT™ for waste wood applications
Thanks to high throughput XRT technology, metals, inert materials, plastics and glass can be detected and sorted out by their atomic density. The machine's sophisticated technology can even detect wood chips with nails, compound materials and overlapping objects in an instant, increasing recovery and purity rates significantly. Recent updates to the high-power x-ray source that TOMRA offers with a warranty of 16,000 hours, provide a more robust sorting performance.
TOMRA's new X-TRACT™ for wood sorting delivers reliable results and produces a fraction that can be further processed into mono materials that meet manufacturing standards. To deliver recycled materials that comply with stringent quality standards, recyclers must go one step further and recover different material types from the wood chip fraction. Especially non-processed wood is high in demand and indispensable in particleboard production. Until recently, separating wood by material type has been a major bottleneck in increasing recycling rates. Thanks to the latest innovations in deep learning sorting technology these challenges can now be overcome.
Jose Matas, Segment Manager Wood at TOMRA Recycling Sorting states: "Combining our X-TRACT™ and AUTOSORT™ with GAIN™, recyclers can profit from a powerful and future-forward wood sorting solution. The materials recovered meet manufacturing standards and help overcome current challenges like price volatility and the lack of sufficient high-quality recycled materials. We have a longstanding legacy in the wood segment and we will continue to best support the industry in unlocking new opportunities – and they are manifold."
Tags: ligna, Recycling, TOMRA, wood, wood and panel, woodworking and manufacturing, woodworking and processing, woodworking event, woodworking industry, woodworking technology, woodworking UK