JOKER  4 axis CNC Machining Centre Wood Lathe Machine
&nbspFriday, November 11, 2022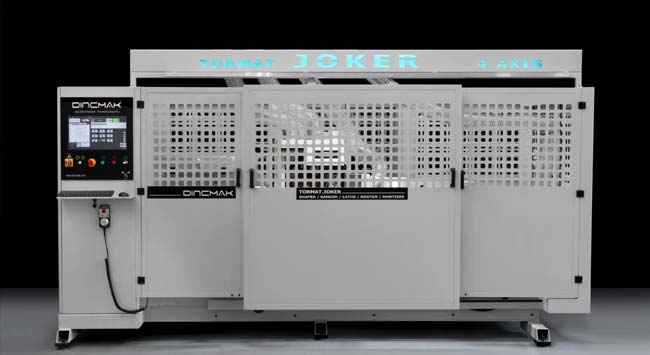 JOKER is a 4-Axis Machining Center Wood Lathe machine, makes a difference with its robust and innovative body structure. Aiming to bring the latest technology to you, JOKER is unrivaled with the highest quality of parts used. With the easily programmable Italian PEGASUS software, you can achieve the fastest results in the most difficult jobs. It adds speed to your speed thanks to the optional Automatic Part Loading unit. JOKER, which distinguishes you from your competitors with all other patented options developed by the DİNÇMAK R&D team, promises you quality with reasonable price advantage.
Tormat.JOKER is designed for manufacturing sofa, chair, table, cabinet etc. furniture legs.It has 5 different operation unit as Shaper Unit, TurningUnit, Sanding Unit and 2 seperate Milling Unit. Shaper Unit can shape the flat surfaces and rough turning operations. It has 7,5kw AC Cutter Motor and dia.120mm h:180mm Cutter for shaping. Milling Unit can make detail shaping, drilling, mortising, engraving etc. finish jobs. There are 2 seperate electrospindle on Milling Unit for allow to fast machining and use 2 different cutter for 1 job. Turning Unit can make the turned parts easly and fast with V form Gauger Cutter. It can cut both two direction of the X axis. Sanding Unit can clean the flat surfaces and straight round surfaces easly.
4-Axis Machining Center CNC TORMAT.JOKER ATC
DINCMAK Machine TORMAT.JOKER ATC 4-AXIS CNC MACHINING CENTER is a multifunctional machine designed for wood machining, turning, grinding and 4-axis detailed milling. It is a 4-axis CNC machining center and a wood lathe at the same time, which is designed for manufacturing sofas, chairs, tables and furniture legs etc. It enables the user to easily shape, carve, drill openings, engrave and perform finishing works. The machine has 6 various processing units: milling head, turning knife, electrospindle, grinder, and optionally a detail grinder and a cutting saw. It is unrivalled thanks to its robust and innovative body design, high-quality materials and excellent optional features. It guarantees fast manufacturing process and high quality. It is safe to say that TORMAT.JOKER is the market leader for high-quality materials and affordable prices!
Tags: JOKER, Machining Center CNC TORMAT.JOKER ATC, Tormat.JOKER, wood and panel, Wood Lathe machine, woodworking and manufacturing, woodworking industry, woodworking UK, Xylexpo