Gain profit from 10 years original LEUCO p-System tools Anniversary offer!
Published on : Wednesday, June 3, 2020
10% discount until 31st of July
What was the world like 10 years ago? Most woodworking tools had small shear angles and the expression "draw cut" was already used when the shear angle reached 30°. Until LEUCO introduced its p-System tools on the market and triggered a genuine revolution in woodworking by suddenly offering tools with a 70° shear angle.
LEUCO filed for its p-System patent exactly 10 years ago
Since then, all shear angles from 55° to 90° on diamond tools are protected by the LEUCO patent. The woodworking world was turned upside down. In the meantime, all tool makers who have been able to do so have developed tools with an angle up to that protected by the LEUCO patent. If an entire industry attempts to imitate a development to the extent allowed, the development cannot be wrong. The original, however, is only available from LEUCO and the major benefits of the p-System are only achieved fully within the patented range of angles. The patented range for p-System tools extends from 55° to 90°. The LEUCO p-System tools being used on the market have a shear angle of 70° and offer superior performance compared to tools from competitors with a near-patent angle of 54.9°.
How can companies benefit from p-System tools?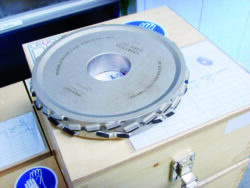 The diamond tipped p-System tools are available for both throughfeed and CNC systems. With more than 10,000 p-System users worldwide, the goal is always to achieve exceptional machining quality and to save rework and scrap. It is also about fantastic application possibilities that save process steps and set-up times. Thanks to long tool life, a high degree of economic efficiency is achieved. In addition to the p-System catalogue program, LEUCO also offers solutions that are customized according to the process, material and machine and solve very specific production bottlenecks. The high-end p-System tools with their high degree of innovation are in the upper range of purchase costs. Due to the many advantages, savings elsewhere quickly pay for themselves. LEUCO experts worldwide will be happy to advise you. One customer reported that the long tool life, saved set-up costs and sharpening costs saved him more than if he had been given another jointing cutter as a gift.
Anniversary offer! 10 years of the original p-System – 10% discount
Until July 31st, 2020, all customers will receive a discount of 10% when ordering p-System tools of the p-System catalog program.
Check out the offer from https://www.leuco.com/leuco/cms/EN/US/leuco/web/solutions/leuco-p-system