Egger introduces latest innovation in kitchen design
Published on :Monday, January 3, 2022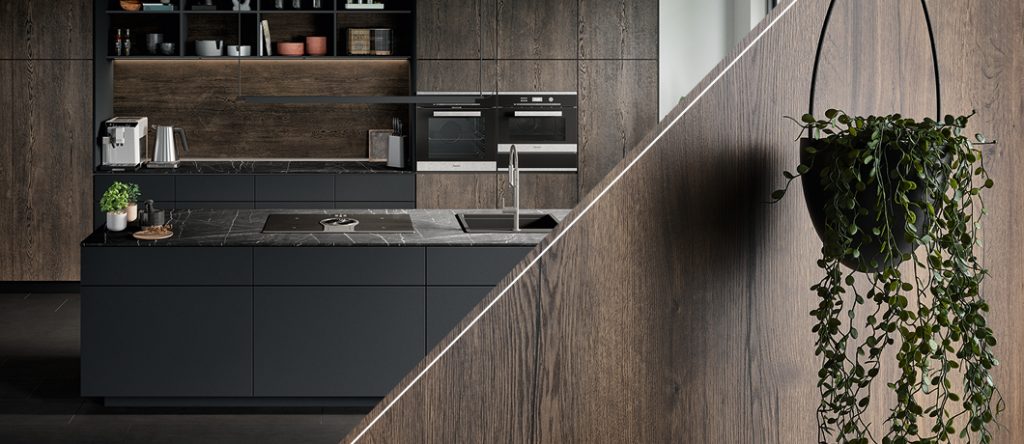 Innovations from Egger group reach new heights with the all new Perfect Sense Feelwood in application. Clean lines and understated elegance are at the heart of this kitchen design in Aurach near Kitzbühel (AT). The black fronts made of matt, textured PerfectSense Feelwood lacquered boards combine the trend of matt and dark surfaces with a natural look and feel. In addition, PerfectSense Feelwood lacquered boards are easy to clean thanks to their anti-fingerprint property, thus combining modernity and functionality.
The focus of the new decors is primarily on natural elements in order to bring about an unprecedented authenticity: For example, the Cuneo Oak has sapwood parts, the Garonne Oak has a reflective nature, the Brown Halifax Oak has small cracks and the Riffian Oak has a natural plank. Discover the six new trend decors in the range for the senses – the addition to the EGGER Decorative Collection.
The matt PerfectSense lacquer finish ensures the anti-fingerprint property and a very low gloss level of the surface. This gives the synchronised Feelwood textures an even more authentic appearance. For the perfect finish, matching 23×1 mm ABS edges are available from stock for all our PerfectSense Feelwood decors.
Tags: egger, Interior Design, kitchen design, latest design, Perfect Sense Feelwood, wood industry, woodworking and manufacturing, woodworking and processing, woodworking UK