Cordless impact wrench from Flex-Elektroinstrumente
&nbspWednesday, December 14, 2022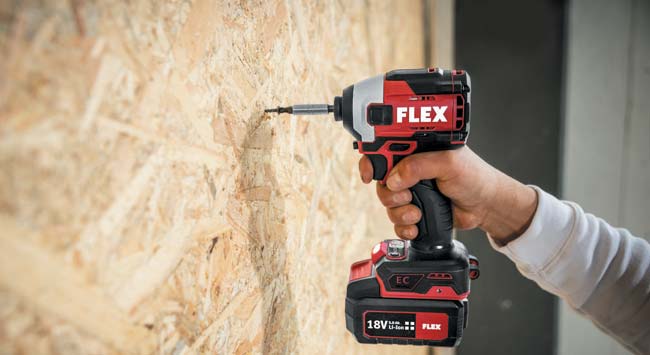 Flex-Elektroinstrumente is launching a compact ¼" cordless impact wrench on the market for the first time. The manufacturer is setting new standards with this expansion of its cordless range: The ID 1/4″ 18.0-EC HD is the most powerful 18V impact wrench in its class with a torque of 237Nm and a screwdriving speed of 3,700 revolutions per minute. Other plus points are the bit ejection for one-handed tool changes and a tap mode for self-tapping screws.
In the construction industry in particular, machines such as the ¼" impact wrench ID ¼" 18.0-EC HD are attracting more and more attention, especially among carpenters, joiners and facade builders. The compact tool is suitable for a wide variety of woodwork, from building terraces and facades to installing windows, as well as for installing self-tapping screws in sheet metal cladding or in sandwich panels for roofs and facades. The powerful cordless impact wrench is also the right choice for concrete screws with a socket.
Useful additional functions
With a bit ejection for one-handed tool change, the cordless impact wrench enables the bit to be changed quickly with one hand. Three different speed settings ensure maximum flexibility in use. Thanks to the integrated tap mode, the cordless impact wrench offers the best conditions for screwing in self-tapping screws and preventing the screws from being overtightened or broken. Like all Flex cordless tools, the new ¼" cordless impact wrench is equipped with an 18V brushless EC motor for high efficiency and a long service life.
Handy in every position
The advantages of the compact ¼" cordless impact wrench in daily use: Since the impact mechanism does not generate any reverse torque, it is also possible to carry out hard screwdriving jobs such as concrete screws without putting too much strain on the wrist. And when working on the ladder or overhead, the machine can also be used if the other hand (eg the left instead of the right hand) has to operate the device for a short time. Another plus is the very short head length, which also supports work in narrow areas.
The new ¼" impact wrench ID ¼" 18.0-EC HD is available either as a single device in a carton or in the L-Boxx, or as a complete set with two 5.0 Ah batteries and a quick charger in the L-Boxx.
Tags: cordless tooling, Flex-Elektroinstrumente, wood, wood and panel, woodworking and manufacturing, woodworking industry, woodworking tools, woodworking UK