Venjakob is among the top innovators for the 3rd time
&nbspMonday, February 6, 2023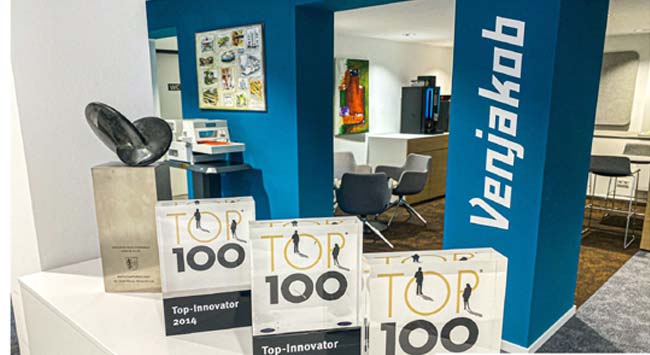 Venjakob once again outshines as a top innovator and receives TOP 100 seal. "We have convinced with our innovation qualities and therefore received the TOP 100 seal 2023. Only particularly innovative medium-sized companies receive this award. On June 23, science journalist Ranga Yogeshwar will personally congratulate us on this success at the award ceremony in Augsburg. Yogeshwar is mentoring the TOP 100 innovation competition."
The competition is based on a scientific selection process. On behalf of compamedia, the organizer of the comparison, innovation researcher Prof. Dr. Nikolaus Franke from the WU (Wirtschaftsuniversität Wien) and his team examined Venjakob on the basis of more than 100 criteria from five categories: Innovation-promoting top management, innovation climate, innovative processes and organisation, external orientation/open innovation, and innovation success.
"TOP 100 is about the question of how important the innovation goal is in the company," says Prof. Dr. Nikolaus Franke, scientific director of the competition. "Do routines and habits dominate, or is the company capable of questioning the existing, thinking creatively and in new ways, and successfully implementing them on the market? We analyze this ability on the basis of more than 100 test criteria," he explains.
On June 23, all the top innovators of 2023 will come together in Augsburg for the award ceremony at the German SME Summit. There, Ranga Yogeshwar will personally congratulate them on their TOP 100 success.
A total of 300 medium-sized companies (maximum 100 per size class) have proven their innovative qualities and now bear the TOP 100 seal 2023. They previously prevailed in a strong field of candidates: With 550 applicants in the TOP 100 anniversary round, there were so many Company submitted documents like never before. The innovation competition was already in its 30th edition this year. Innovation researcher Prof. Dr. Nikolaus Franke manages the company comparison on behalf of compamedia.
Tags: TOP 100, Venjakob, wood and panel, woodworking, woodworking and manufacturing, woodworking industry, woodworking UK