SCM Digital Service: Fast, Reliable and Flexible
Published on : Friday, March 27, 2020
Today there is one more reason to choose SCM products. Their team is able to provide highly specialised services with the levels of quality and reliability borne out of over 60 years of experience in the sector.
The famous slogan of SCM: You will never work alone
From the installation to the start-up in production to the technical support and maintenance. From training to supplying specific rare parts. SCM's team will follow one throughout all the stages of the machine's life cycle. SCM shares the same goal as everyone: not simply starting-up the machine but maximising your production.
Always with everyone, even from a far
Practical demonstrations, training and optimisation of maintenance and assistance activities: the "Maestro connect" platform provides instant access to a wide range of services, to allow wood working operations to be flanked and supported by the SCM team, even in "virtual" mode.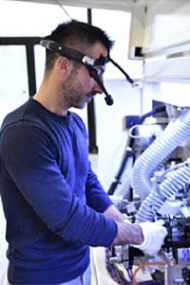 Digital assistance service with "Smartech" augmented reality
Thanks to a wearable computer and and a specific control software, SCM experts can diagnose and solve problems in real time.
Smartech incorporates video, camera, microphone and loudspeaker functions with wireless connection. This ensures the hands-free, two-way communication with interactive data sharing.
To SCM, "You will never work alone" is just a slogan but a genuine approach towards full customer satisfaction.
Tags: "Maestro Connect", augmented reality, Digital assistance service, digital service, fast, flexible, products, quality, reliable, SCM, slogan, Smartech, specialised service, virtual, You will never work alone
| | |
| --- | --- |
| | |
| | |